Sep 01, 2022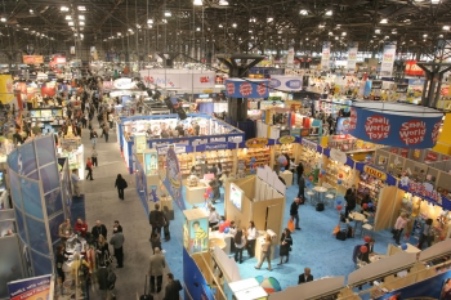 Fall is our new favorite season of the year because the Toy Fair New York 2023 has announced it is launching its very first fall marketplace! After 117 editions, this one is making headlines for a dramatic date shift from early in the year to later in the year. Here's what you need to know about why the dates have changed and how these new dates could impact your marketplace visit.

Why Did The Toy Association Make This Date Change?
Traditionally, Toy Fair New York is held in February of each year. Everyone with any ties to the play industry community looks forward to this time of gathering together for an energizing and informative four days where manufacturing legends offer seminars and demonstrations, buyers ask questions, new business owners connect with mentors, business partnerships are formed, and the year's most promising products are on display for wholesale purchasing.

However, as with all industries, COVID-19 has limited select manufacturers' ability to meet the volume of popular products while some wholesalers and resellers have struggled to offer the high margins buyers have enjoyed in previous years during their visits to the Toy Fair. The good news is this new fall date allows these businesses enough time to properly prepare their products and deals for the best Toy Fair New York yet!

When Is the Toy Fair New York 2023?
The marketplace will open its doors at the Jacob K. Javits Convention Center in New York City on September 30. This one-of-a-kind four-day event that draws toy industry professionals and fans from all over the globe will run through October 3, 2023.

How Can I Discover the Hottest Sellers of 2022 and 2023 Before Fall 2023?
Can't wait that long to see what's coming in 2023? You're in luck! The Toy Association announced a preview event is coming this month to Dallas, Texas. For two days, this condensed version of Toy Fair NY will be a welcomed opportunity to reconnect with buyers, sellers, and business contacts. If you are able to go this month, we definitely think it will be worth the effort and expense. This is your one-and-only chance to explore and discover some of the year's items that are flying off the shelves live and up close.

What is Toy Fair Everywhere?
The Toy Association has also done a fantastic job providing an online community for vendors and buyers throughout the pandemic with the launch of Toy Fair Everywhere. While the virtual marketplace is an amazing tool that allows industry professionals to stay connected all year long, there is something exhilarating, personalized, productive, and memorable about an in-person trip to the Toy Fair NY marketplace that cannot be replicated - Well, maybe this two days in Dallas comes close!

What Can I Expect from the Toy Fair NY 2023?
The next Toy Fair NY is going to be highly anticipated after the pandemic forced The Toy Association to cancel the 2021 and 2022 editions. Therefore, you can probably expect everyone who is remotely connected to the play industry to be already making their travel plans now for Toy Fair NY 2023.

The good news is that means more manufacturers, wholesalers, resellers, and demonstrators will likely be present to share their expertise, showcase their top products, and offer their best deals. Also, the buyers will be ready to purchase after having to rely on online product descriptions for the past couple of years. With so many people planning to attend, it is a good idea to have a plan ahead of the marketplace dates and contact the vendors you wish to meet to set up a time to chat.

On the downside, if you have not started scheduling your flight and hotel reservations, you could have difficulty securing a reasonable flight and hotel room. Therefore, be sure to make your travel and hotel arrangements as soon as possible using the information found on the Toy Fair NY website.

What if I Cannot Find the Vendors I Want to Meet?
The Toy Association does an excellent job of providing loads of helpful travel and planning-related tools and guides on their site. This includes a "Shop By Product Zone" listing and a category listing of all exhibitors. It is strongly advised to reach out to the businesses you would like to meet with ahead of the Toy Fair to ensure you have time to pack everything you want to accomplish into those four wonderfully hectic days. Enjoy!