Oct 16, 2023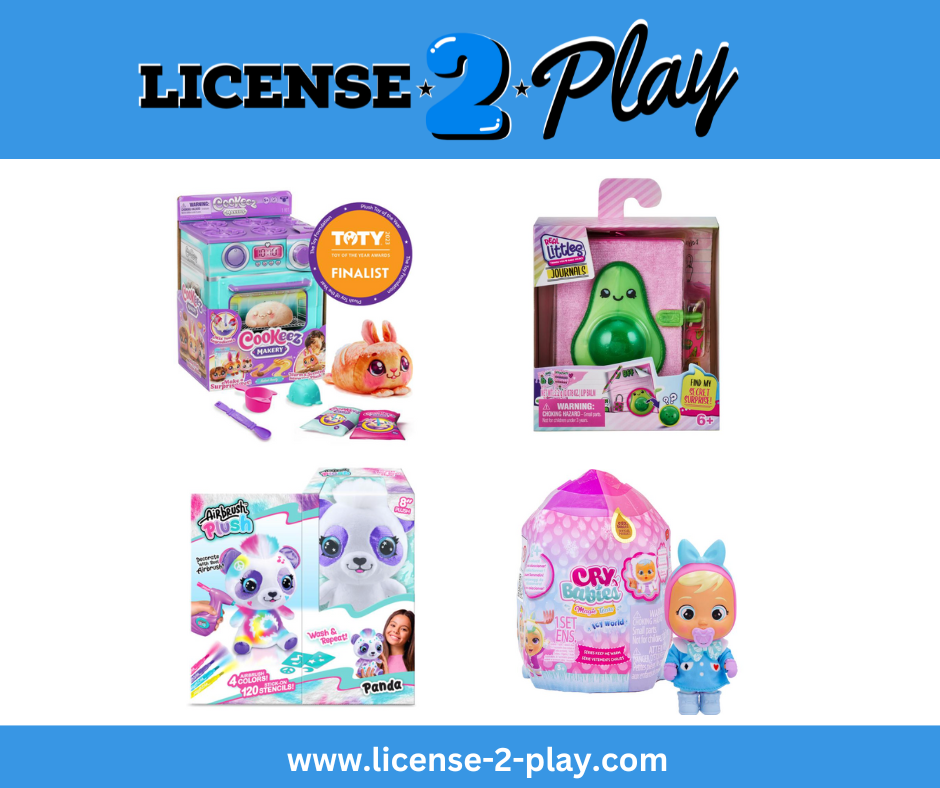 In the dynamic world of B2B toy retailing, staying ahead of the curve is not just a goal; it's a necessity. And, as children's educational needs continue to evolve, so too must the products we offer. In this blog post, we'll delve into the exciting realm of educational toys and explore four exceptional options that captivate young minds and make learning an enjoyable adventure. By embracing these innovative playtime companions, you'll enhance your inventory and foster a stronger connection with your customers seeking the perfect blend of fun and education for the children in their lives. Join us as we uncover the toys that redefine the concept of learning, making it a delightful and engaging experience for kids of all ages.
1. Real Littles Journal Packs
Introducing the latest addition to our lineup of engaging learning toys for kids – Real Littles Journal Packs! These designer Journals have taken the learning experience up a notch with secret surprises that will captivate young minds. Each Journal comes complete with its own Lock and Key, adding an element of intrigue and excitement. But that's not all! On the cover of each Journal, there's a hidden surprise waiting to be discovered. As kids unlock their Real Littles Journal, they'll be thrilled to find more micro surprises hidden inside, each as tiny as it is functional. And with three surprises that perfectly match the Journal's theme, the excitement never ends. Plus, with 50 beautifully printed pages inside, kids have ample space to jot down their unique secrets and engage in creative writing.

There are six enchanting themes to collect: Princess, Unicorn, Bunny, Boba Bear, Avocado, and Popsi-cool. These Journals are a must-have for any retailer looking to add a touch of wonder to their educational toy selection. And, with the added security of a Lock and Key, parents can rest assured that their children's secrets are safe. Stock up on these captivating Real Littles Journal Packs to make learning fun and engaging for kids while boosting your retail offerings.
2. Cookeez Makery 'Bake Your Own Plush' Oven Playset
Introducing a 2023 TOTY Finalist in the Plush Toy of the Year category - the Cookeez Makery 'Bake Your Own Plush' Oven Playset! The Cookeez Makery brings a captivating blend of creativity, surprise, and huggable fun to your store shelves with this innovative playset.

Designed to spark children's imaginations and offer a delightful experience, the 'Bake Your Own Plush' Oven Playsets allow kids to embark on a unique journey of discovery and creativity. As they open the oven door, a warm, scented, and interactive plush friend, resembling a delectable baked treat, is revealed, adding an extra layer of excitement to playtime. With a recipe box and card included, kids can anticipate which plush friend they will bake – a puppy, kitten, or bunny – and then easily create their new companion. With just 90 seconds in the oven, a delightful "ding" signals the emergence of their new friend, which responds with lovable sounds when squeezed and loved.

The assortment offers six plush Treatz to create, ensuring endless fun and creative opportunities. Cookeez Makery is the perfect addition to your retail store, inspiring creativity and providing unlimited snuggles for your customers. Order now and let your customers create their very own unique cuddly companions.
3. Airbrush Plush Panda Kit
In a sleek 5-panel box, the Airbrush Plush Panda Kit is the perfect addition to your inventory for customers seeking an innovative and engaging learning experience through play. This remarkable kit allows children to unleash their creativity by customizing their plush panda in a fun and interactive way.

With the battery-powered airbrush gun and easy-to-use stick-on stencils included, kids can effortlessly design and create multicolored plushies that are as trendy as they are adorable. The real airbrush gun enables them to apply their favorite colors, resulting in cool, seamless, and perfectly blended effects.

What is even better is this plush is a blank canvas, encouraging children to explore their personal style and artistic talents. And when it's time for a fresh design, a simple wash removes the old one, leaving the plush looking brand new – offering endless possibilities for kids to redesign and update their plushies with trendy and fun themes that suit their evolving moods and styles. Embrace this educational and entertaining product, and watch it fly off your shelves as it inspires young minds to learn while having a blast.
4. Cry Babies Magic Tears Icy World 'Keep Me Warm' Doll
Retailers, prepare to enchant your young customers with a winter wonderland-inspired toy. Now introducing the latest addition to our educational toy collection: the Cry Babies Magic Tears Icy World 'Keep Me Warm' Doll!

Each doll has a winter-themed changeable outfit, making playtime more engaging and imaginative. But that isn't all! These dolls also come with fun winter-themed accessories, allowing children to mix and match for endless creative possibilities. And, with over 12 new dolls to collect, each nestled in its own iceberg-shaped capsule, kids can look forward to delightful surprises as they unbox their treasures. But here's the real magic: each Cry Babies doll can cry real tears when filled with water and gently squeezed.

So, retailers, it is time to stock up on this enchanting collection while supplies last and watch it fly off your shelves as young minds embark on a learning adventure filled with fun and emotion.
The world of toys is continuously evolving, and as B2B toy retailers, we must stay ahead of the curve by offering products that entertain and educate. By stocking your shelves with innovative and engaging toys, you not only cater to the evolving needs of parents and educators but also contribute to the holistic development of the children who will enjoy them.
As we embrace the future of educational play, let us remember that at the heart of our industry lies the goal of nurturing young minds and igniting their passion for learning. So, let's continue to be the bridge between play and education, ensuring that every child's journey is both educational and enjoyable. For more information, give us a call at (516) 496 – 3479 or visit our website https://license-2-play.com.