Dec 11, 2020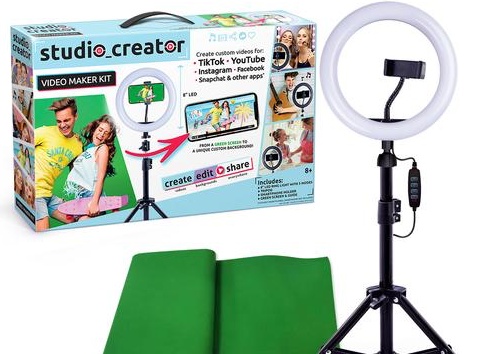 If you own a retail business, your marketing campaign could mean the difference between attracting consumers to your store or losing the sale to your competitors. But, did you know there is an easy tool that makes your product promotions look professional? Discover how using Studio Creator could be the key to growing your business online!

What is Studio Creator??
The Studio Creator is a lighting and green screen photography and videography set that can bring professional-level lighting to any product pic or video in any room of your home or store! Included with the set is an 8-inch LED light ring with 10 brightness sections and three lighting effects: white, natural, and warm. Use the white setting for the brightest light, the natural for an average outdoor lighting effect, and the warm for a comforting glow. Also in the set, you will receive a power cord with a controller attached to a mini smartphone tripod that extends up to 20 inches and a green sheet background. The green sheet allows you to drop whatever background images you like behind your products or leave your background all white after taking the photo or video just like the pros!

Using Studio Creator for Your Blog and Ecommerce Site?
With such fierce competition online, it can be difficult to get Google's attention to list your site in the related product keyword search returns. Therefore, in order to let search engines know you are a legitimate business, a custom SEO-friendly website with a frequently updated SEO-driven blog can help your business get better rankings. Once on your site, encourage your visitors' to stay awhile by making professional-looking product demonstrations, informative "How to" videos, and creative company or employee spotlights with your Studio Creator set. In this way, not only are you promoting your products to consumers, but you are also adding interest in your site overall which could lead to lingering browsing and ultimately shopping for other products you sell. Plus, the more professional the content on your site looks the better chance you have to earn the consumers' trust with their payment information and good reviews for a top-notch shopping experience.

Why Social Media Videos Can Boost Your Sales?
The primary goal of having an online presence is to get more visitors to browse your website for making purchases. Although Studio Creator works amazingly well for pics and videos for your website and blog to give you a better chance of high visibility to audiences on Google, it can also work to engage the interest of passive browsers online through social media. This includes those actively following your page on the different social media channels and those who see your targeted pay-per-click (PPC) ads while scrolling. Unless you are a pro photographer or videographer, you likely struggle to find the right lighting and backgrounds to make your products look appealing to the market. With Studio Creator, you will enjoy having an easy-to-use lighting tool to produce ads and posts that can stand out and draw the eye to your post or ad content potentially resulting in a higher click-through-rate (CTR). After clicking on your post link or ad, the consumer is then directed to your website where more engaging product photos and videos await! The more the site visitor explores, the great the chance of a sale!

Ways to Improve Your Promos With Studio Creator ?
If you have been uploading quick snapshots of your products without proper lighting, you are about to be astounded at how talented you truly are as a photographer. All it takes is a smartphone and the right lighting setting and direction from your Studio Creator kit. To figure out which of the three light effects you need, try to think of the overall mood you are wanting to create. Are you going for a nostalgic mood with a "warm" effect, a more down-to-Earth and candid "natural" effect, or an exciting WOW factor with the "white" effect? Then, decide which brightness level will best support that mood without letting it get too dark or blown out to see clearly. The green background will remove any background noise so your phone can focus on the product alone. Use the included guide for more pro tips and strategies.

Ready to get your own wholesale Studio Creator set? Simply register with License 2 Play by completing our quick contact form online and emailing us a copy of your Sale Tax Resale Certificate to sales@license-2-play.com. After approval, you can load up on thousands of the hottest-selling wholesale items available on the market. To find the items on everyone's wishlist, it's as easy as shopping with us at License 2 Play!