Jun 07, 2017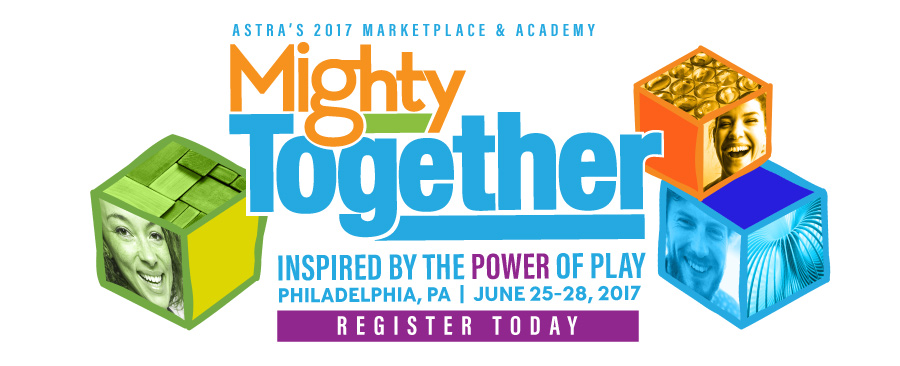 If there's one compelling reason to attend the ASTRA Marketplace & Academy trade show this month, it's their vision: "To change the world through the power of play". Clearly all of us can remember specific toys from our own childhood. Therefore, it's no wonder that we're so fascinated with the toys children play with today.
Who wouldn't take advantage of the chance to be the first to see the newest collection of toys? Fortunately, as a retailer or sales rep in the toy industry, there are at least 4 official reasons to attend the next ASTRA event, too.
1. See the Toys in Person
Visitors get to see the newest toys in person. You get a chance to touch them and play with them. This will make you better prepared to answer your customers' questions when they're looking for the right toy for their child. It might even give you some great ideas about toy bundles to sell together. Finally, knowing how the toys are used can also help you figure out where to place them inside your store.
2. Gain Insights
If you're ready to explore new ideas and gain some insights on how to help your business thrive, this is the place to be. This event is not just about getting to know the toys but also about what children can do with them. You also get a chance to meet with kindred spirits and connect with your colleagues. And since this is an event that you have to register for, you'll have plenty of opportunities to network with others in the toy industry.
3. Get Exceptional Deals
Many vendors offer some exceptional deals at this event. These discounts, along with the networking opportunities, could propel your business forward this year. You can take advantage of last quarter buying opportunities, too. And if you're looking for a new toy vendor, this event is a great place to start.
4. Talk to License 2 Play at Booth #1655
Meet us in person! License 2 Play is one of the exhibitors at the ASTRA Marketplace & Academy. We'll show you all the new products we have to offer at booth # 1655. We'll be happy to discuss the newest selection with you and offer you some powerful insights into the industry. Let's make this is a success for you!
What Is ASTRA?
ASTRA, short for the American Specialty Toy Retailing Association, was founded in 1992. Its Marketplace & Academy trade show attracts more than 450 exhibits and offers more than 30 hours of education. From June 25-28, toy enthusiasts will be gathering here to explore the newest specialty toys. The focus of these toys is not so much on what the toy can do, but what the child can do with the toy.
As a retailer, you should take advantage of the opportunity to discover and explore the toys, kits, and games yourself. There's nothing like hands-on experience to determine what the appeal of a certain toy is. Your customers will appreciate the fact that you are recommending the best toys for their specific needs, and word will spread about your ability and willingness to go the extra mile.
The event is held in Philadelphia, PA. If you need to travel, you can find accommodations close to the convention center through ASTRA's website. To register for the event, you can click here.
How to Make the Most of Your Visit
Of course you can go to a convention like this without a plan and still gain valuable information and insights for your business. But if you really want to get the most out of your visit, it's a good idea to plan ahead.
-
Take a look at the list of exhibitors and determine which ones you want to visit. License 2 Play will be at booth #1655.
Take a look at the event schedule and determine which ones you want to attend.
Plan enough time to get to the convention center in case of traffic/delays.
Bring business cards and a notepad to exchange information with others.
Have fun!
After you register for the event, it's a good idea to book accommodations if you don't live in the area. We look forward to chatting with you at our License 2 Play booth! But if, for some reason, you can't attend the ASTRA Marketplace & Academy trade show, you won't be left behind, because everything will be available online.