Sep 18, 2017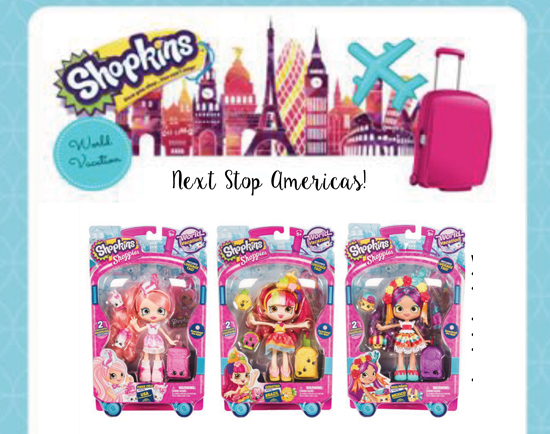 Shopkins are just as popular as they have ever been. Series 8 is being released in stages, with wave 3 coming soon on October 1st. You really don't want to miss out on the next batch of these most popular toys, especially since they're coming to explore the Americas.
Shopkins Are Coming to America
Series 8 is all about traveling the world. Finally, the Shopkins are coming to America. They have packed their suitcases with the essentials and are making their way over. To ensure that they get to board the airplane, their suitcases even include a passport and a luggage tag. Kids will love playing with these travelers and get ready to board the airplane in their make-believe games.
New and Exclusive Shopkins Are Waiting
One of our theme packs includes an assortment of Shopkins, including the two exclusive figurines Katrina Ketchup and Harry Hotdog. Along with it, your customers will discover four mini Shopkins as well as a hotdog stand playset with the Statue of Liberty. It doesn't get more American than that.
Wave 3 also includes mini playsets, and new rooms for the Shopkins to stay in. Along with a variety of new Shopkins, most packs also include a collector's guide. This little gem will let your customers know which Shopkins are now available for purchase and tempt them to collect as many of them as possible.
Which Shopkins Are Visiting the Americas?
Season 8 is the first time that Shopkin toys were released in waves. The first wave sent Shopkins to Europe, the second wave sent them to Asia. The third and final wave has the Shopkins visiting the Americas. Here are some of the new Shopkins you can expect to find:
Canadian Cuties
American Vacay
Mexico Amigos
Brazilian Break
Gleamtastic Holiday
Bag Charms (Special Edition)
Shimmering Snow Globes (Limited Edition)
Young customers don't have to travel the world looking for these Shopkins. You can get many of them here from License 2 Play. However, the Gleamtastic Holiday Shopkins are ultra-rare, which makes finding them even more special.
What Makes These Shopkins So Appealing to Kids?
It may be difficult to understand as an adult, but kids are obsessed with Shopkins. The fact that there are always new ones coming out and that some of them are difficult to find makes the quest for Shopkins even more fun. Shopkins are great for pretend-play, but your kids may be trading their Shopkins with other kids, too.
The idea is to collect as many of them as possible, although there are some Shopkin toys that are less popular than others. Which Shopkins are cute and in depends on the crowd the child hangs out with, but generally, a toy like Aspara-Gus will never be as popular as Mandy Candy or another toy with a glitter finish.
It's quite possible that Shopkins are appealing, because they allow kids to imitate adults. After all, when you're little and not paying the bill, grocery shopping is a lot of fun. It's the same reason why kids enjoy playing with vacuum cleaners or pretending to work. And even though we may no longer enjoy these things, there's nothing wrong with kids pretending to be just like us.
Why Adults Get on Board with Shopkins
You may wonder why adults would let their kids buy Shopkins, when they know it will end in a never-ending quest to collect them all. There are good reasons to support these toys. One, they don't require batteries, which is rare with popular toys. Two, kids have to use their imagination to play with them, because besides cute names and a pretty face they don't have a lot to offer. Three, it's impossible to escape them. They even have their own YouTube channel. And if parents allow their kids to interact with others outside of their home, kids will be exposed to the wonderful world of Shopkins.
Stock Up on Wholesale Shopkins Wave 3
You will not regret ordering the newest wave of Shopkins from License 2 Play, because this is a toy that sells. Their colorful packaging and appealing design will do the work for you. You could hide Shopkins on your bottom shelves in the darkest area of your store, and children will still find them. That doesn't mean you should hide them though, because your customers will be looking for them. And you wouldn't want to disappoint them, would you?