Aug 01, 2019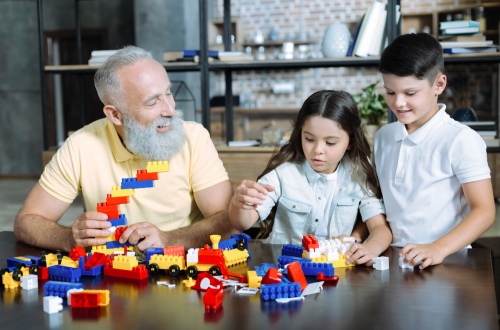 There are many ways toys help us grow and connect with others in the family. Although toys offer an amazing method of teaching new skills and introducing higher-level concepts, they also afford a chance to share with others, calm the mind, and reward good behavior. With all of these healthy benefits, few things bring the family together like toys.

Sharing Together
Toys are fun when playing alone, but the adventure only grows and develops into something greater when more players are added. This means everyone in the family gets a turn, and everyone contributes to family night. Without knowing it, children learn to share, collaborate, and strategize.

Spending Quality Low-Cost Time Together
In a world where parents looking to spend some time with the kids have to compete with exciting video games played with other children online without having to leave the house, parents often feel a trip to a theme park or zoo may be the answer. Such trips can really add up in cost! Even going to the movies can be over $30 for a family of four without dinner or popcorn. Now, doesn't staying home with a building block theme park set the whole family can design from scratch coupled with some delivered pizza or a homemade meal the family whips up together sound nice?

Children do not need expensive trips to stop playing video games and pay attention to their loved ones. A building block set, board game, or role-playing activity is enough to create bonding moments to cherish for a lifetime. This is what family time is all about with the laughter it creates, dedicated attention it requires, and problem-solving together it promotes.

Having Fun Together
Stressors of this world will always be present for people of every age. When children are young, they can worry about being away from their parents, the newly discovered world events, nighttime fears, or lost toys. School-aged children can be frustrated with homework, making friends, and not being able to easily achieve their goals in sports. Unfortunately, as we age, the number of stressors only increases. Therefore, since your brain cannot do two things at once, having an activity night each week set aside for family playtime becomes an important break from the anxiety-causing frustrations of the world.

Parents forget about a bad day at work as soon as they see the smiling faces of their children who are able to proudly create and display something amazing from Tinker Toys or practice reasoning through hilariously awkward social situations in their own mini-dramas with Shopkins figurines. An activity that seemed so simple at the start suddenly becomes the highlight of the week no one wants to miss! By the end of the night, the only thing on everyone's mind is "When can we do this again?"

Rewarding Together
Once children see how much fun they can have during family night, they will likely want to continue the fun. Parents can use this healthy momentum and excitement for a reward for good behavior the whole family can enjoy at home. When life does not feel like fun and games because children are struggling with discipline and rules to follow, rewards like being invited to a special family activity night can be all the incentive they need to improve their listening skills and manners.

This may be especially true if the night is given a little extra planning. For example, an evening of playing with K'nex building sets could become "The Skyscraper Challenge" where all players compete for the tallest skyscraper or the fastest player to use a set number of blocks to reach a predetermined height. There can also be a most creative skyscraper award. Don't forget the trophies!

Another example of a special activity night might be "The Starlight Ball" where Disney Doorable princesses receive a royal invitation to attend a beautiful party made complete with a homemade star cutout lantern. Of course, they will first have to thwart the plan of a lurking ambitious wizard who wants the crown…Yikes! Watch imaginations soar with this role-playing theme where costumes are always an option, and no one looks weird in a Rapunzel wig.

Now that everyone in the family is included and the sharing and cooperating have become something the kids look forward to doing, be sure to video these precious moments. These are the times everyone will want to remember. The times when stressors faded and quality time together turned magical because toys brought the family together.