Aug 01, 2020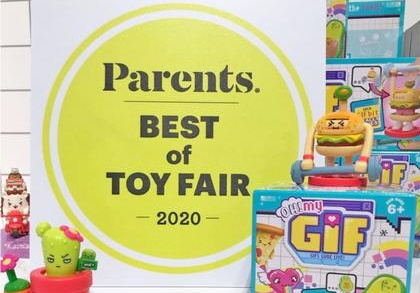 Are you searching for wholesale toys to line your inventory for 2020 that the toy industry raves about? At License 2 Play, we carry all the hottest-selling toys, games, and novelty items, like these five top picks. Discover what makes them the 2020 toys no store should be without!

OH! MY GIF?
Parents Magazine selected this GIF Bit pack as the "Best of Toy Fair 2020"! With these OH! MY GIF Bits, you twist, turn, push, and pull to discover what action each collectible character can perform. Each one has a different personality and surprising talent to produce an abundance of giggles and build problem-solving skills. When it's electronics time again, download the GIFS GONE LIVE AR app and scan their A.R. card from the pack to use them in texts and posts! There are more than 60 GIF Bits to collect, including some rare, ultra-rare, and a Limited Edition Light Up #OMGOMG Lazer Catly. Perfect for making social media posts, playing with friends, entertaining kids on errands, or swapping at school, these characters are always ready to magically spring to life! More than your average everyday item, it's a GIF Bit!

Kindi Kids
At License 2 Play, we could not be prouder of our TOTY Finalists for the "Toy of the Year Awards" starting with our Kindi Kids! If you love the Shopkins series, then you will go crazy for our Kindi Kids dolls that have heads that move, and actions they can perform together with their Shopkins friends. Donatina can eat her favorite cereal with her special spoon. Miss Marsha Mello takes bites out of her cake pop, and the marshmallows in her Babycino move to simulate a realistic tasty drink treat. With colorful hair and big bright eyes, the only problem our sellers have with these dolls is they are hard to keep in stock!

Heroes of Goo Jit Zu?
Another 2020 TOTY Finalist, Heroes of Goo Jit Zu, is here! These minibeasts take stress toys and battle toys to a new level. Made specially to be punched, pulled, and squeezed, kids love these mighty stretchy warriors! Although they feel solid, they can be pulled until they expand to 3x their natural size making them a monstrous force to be reckoned with and a fabulous fidget toy. Plus, each character has a unique power that remains hidden until squeezed. Which will power will you unleash?

The Heroes of Goo Jit Zu cartoon is shown on YouTube and IMBd, so everyone with Internet can watch and root for their favorite character. Once the powers have been discovered, these mini creatures can fight to see who will come out on top or play out the cartoon series in live-action! Sold in packs of two mini warriors or one Dino Power character with "chomp action", be sure you stock up on these squishy, gooey, mushy, and crunchy TOTY-nominated toys today.

Peppy Pets?
A toy that has been on the TOTY radar for a couple of years and is always making the top list of our best sellers for young consumers and animal lovers is our Peppy Pets Dinosaur. Why? It's the ideal pet with no mess and plenty of exciting spunk! This little guy has spring action in his head and legs to bring him to life on walks with no batteries needed. With his natural action walking style and his bell collar with leash set, this is one playful green Dino that will give kids an interactive best friend to keep them entertained wherever they go!

How to Order
Ready to place your order for these touted toys that catch the eye of parents, kids, and toy experts alike? Registration with License 2 Play is easy! Simply fill out our registration form and email a copy of your Sales Tax Resale Certificate to sales@license-2-play.com. Once approved, you are ready to stock up on all of our fast-selling toys, gifts, and novelty items! With so much to choose from, License 2 Play offers something for everyone including nostalgic adults and super fun family bonding activities.

Therefore, when you are looking for which toys to sell at your Ecommerce, booth, or retail store, make License 2 Play your first stop! We have the play industry's best toys for people of all interests and ages. Register with us today and find out why License 2 Play is the "Go-To" manufacturer and wholesaler for toys, games, activities, and novelty items everywhere!