Nov 21, 2023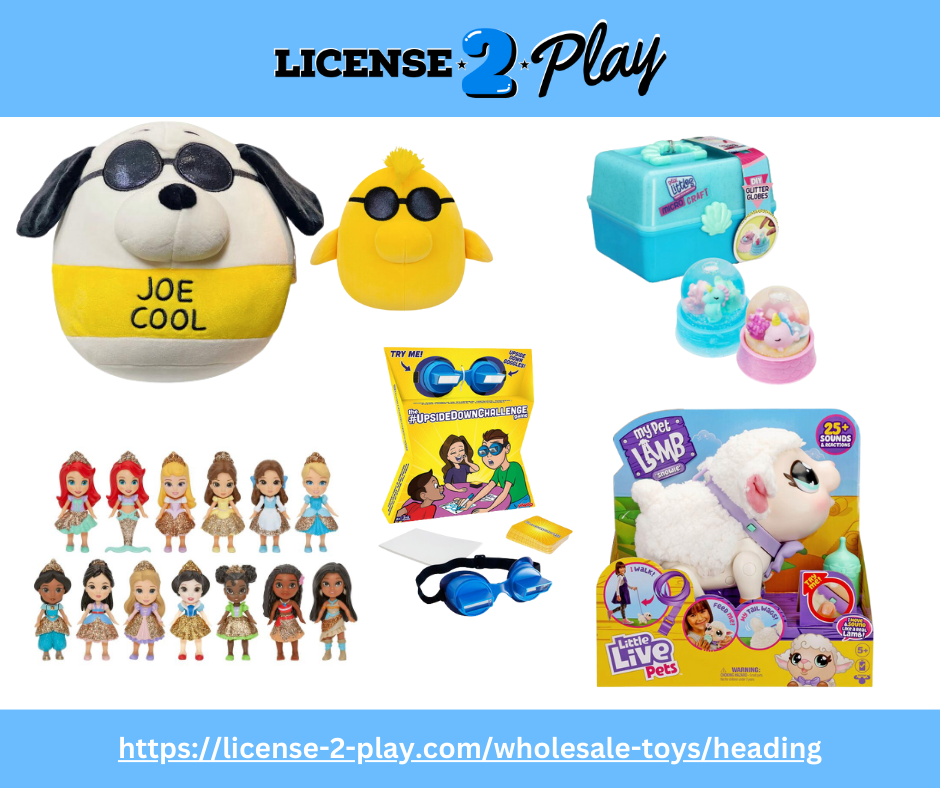 As the holiday season approaches, the toys world is again abuzz with excitement and anticipation. For toy retailers like you, it's the most wonderful time of the year to curate a selection of enchanting products that will captivate young hearts and bring joy to families. So, dive into the season's magic and join us as we unwrap the secrets to a successful holiday season for your toy retail business, one toy at a time. Here are five toys to stock your shelves with this holiday season.
1. Wholesale Original Squishmallows™ 8 Inch Peanuts® Plush Assortment – Joe Cool Snoopy and Joe Cool Woodstock

Elevate your holiday inventory with an infusion of timeless charm and cozy comfort. Now introducing the Wholesale Original Squishmallows 8 Inch Peanuts Plush Assortment – Joe Cool Snoopy and Joe Cool Woodstock! Dive headfirst into a world of timeless coolness with this dynamic duo and picture the delight on your customers' faces as they immerse themselves in the iconic Peanuts® universe through the Squishmallows.

What sets them apart:
- Officially Licensed
- Perfect 8-inch Size
- Ultimate Softness
- Double The Cool Design
- Collect and Display

The Original Squishmallows™ 8 Inch Peanuts® Plush Assortment – Joe Cool Snoopy and Joe Cool Woodstock marries the timeless allure of Peanuts® with the unbeatable comfort of a Squishmallow. Grab them today and introduce your customers to the coolest companions from the Peanuts® world!
2. Real Littles™ Micro Craft Single Pack

Introducing the perfect addition to your holiday inventory: Wholesale Real Littles™ Micro Craft Single Pack in 10pc Counter Display – Series 6!

These delightful miniature craft kits will enchant crafty kids and creative souls alike. Inside each adorable case, you'll discover a world of DIY surprises featuring six different crafts to collect. These crafts are designed to spark joy, whether it's a DIY color backpack, canvas art with real paints, a magical unicorn terrarium, or a tiny glitter globe with floating sparkles. But the magic doesn't stop there – there's also a mini fizz bomb that fizzes and dissolves in water and a DIY lightbox that lights up your child's messages! These Real Littles Micro Craft Kits come in charming mini crafting cases, perfect for storing tiny treasures or jewelry. With their attention to detail and endless creative possibilities, these craft kits are perfect for ages six and up, making them an excellent choice to stock your shelves with this holiday season. Let your customers and their little ones experience crafting magic with Real Littles – where "Things You Love Are Made Micro."
3. The Upside Down Challenge™ Game
Introducing the ultimate holiday season crowd-pleaser: The Upside Down Challenge™ Game (Goggles Included)! Get ready to turn reality on its head and infuse your store shelves with laughter, fun, and unforgettable moments. This family-friendly game is designed to bring joy and amusement to your customers during the holiday season and beyond.

Bring the joy of The Upside Down Challenge™ Game to your store this holiday season and let families and friends create lasting memories together. With this game that flips reality and delivers non-stop laughter, you will surely have a winning addition to your holiday inventory. Get ready to stock your shelves and spread the holiday cheer!
4. Disney® Princess Mini Toddler Doll
Introducing the enchanting Wholesale Disney® Princess Mini Toddler Doll Assortment in a 12-piece counter display—a delightful addition to your store's holiday lineup. This assortment is a true gem, featuring a range of beloved Disney Princesses and characters that will enchant Disney fans of all ages. This collection has everything from timeless classics like Cinderella, Ariel, and Snow White to modern favorites like Elsa, Anna, and Moana.

These adorable 4.5-inch mini toddler dolls are crafted with meticulous attention to detail, faithfully capturing the magic of Disney in each figure. Disney collectors will be thrilled to add these mini toddler dolls to their treasured collections, ensuring ongoing customer engagement and repeat purchases.

The captivating Disney's 100th Anniversary theme packaging adds an extra charm, making these dolls irresistible for display and merchandising. Perfect as gifts for birthdays and special occasions, these officially licensed Disney products guarantee authenticity and quality, instilling confidence in your customers.

Don't miss the chance to bring the magic of Disney to your store this holiday season—stock up on this enchanting assortment and watch it captivate hearts and inspire joy.
5. Little Live Pets™ My Pet Lamb™ Snowie
Elevate the magic of this holiday season with the enchanting presence of Little Live Pets™ My Pet Lamb™ Snowie in your retail collection. Snowie, an interactive wonder, brings the joy of cuddles and play together in one delightful package.

This lifelike lamb boasts over 25 endearing sounds and reactions, responding to the touch of little hands with playful antics. Kids aged five and above will be charmed by Snowie's soft fleece, wooly ears, and fluffy tail that wiggles with every move, making her an instant favorite – and with a repertoire that includes baa's, giggles, burps, sniffs, sneezes, and even a cute fart, Snowie keeps the surprises rolling with each interaction.

Not to mention, Snowie's super soft fleece and wooly features provide a sensory delight, making her feel like a natural baby lamb. Packaged with a detachable walking leash, feeding bottle, instruction booklet, and three AA batteries, Snowie is ready to bring joy straight out of the box.

Recommended for children aged five and above, My Pet Lamb™ Snowie is the perfect gift to offer endless cuddles and interactive fun, making it a must-have addition to your holiday toy selection. Elevate the holiday spirit and stock your shelves with Snowie today!
As fellow B2B toy retailers, here are License 2 Play, we understand the exhilarating yet demanding nature of the holiday season in our industry. It's a time of boundless potential and festive spirit that demands careful planning and strategic choices. And it is important to remember, in the world of toys, it's not just about the products we offer but the joy and memories we help create. By staying attuned to the latest trends, leveraging market data, and fostering strong relationships with suppliers, we can make this holiday season truly magical for our customers and businesses. May your shelves be stocked with wonder and your holiday sales be merry and bright. Happy retailing!