Feb 25, 2022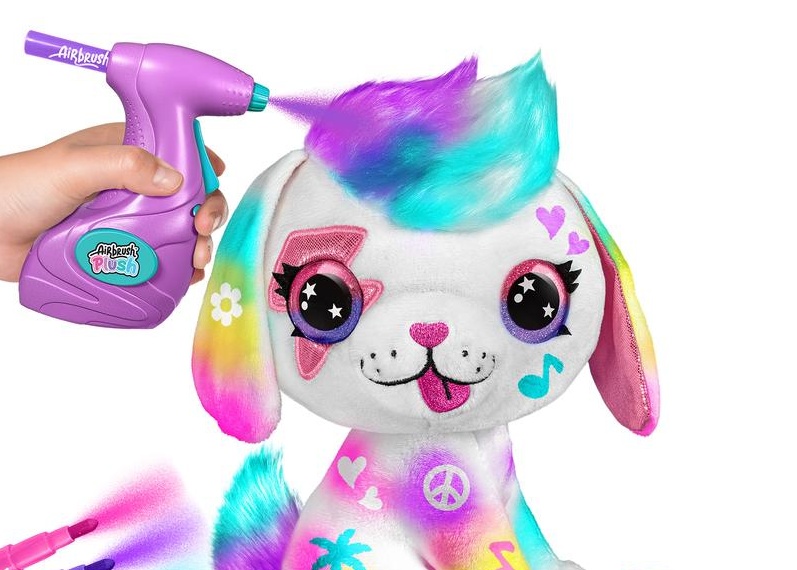 Activity kits are more popular than ever in 2022, and it's not hard to see why. Nothing brightens a child's day or brings families and friends together like creative activity sets that provide hours of innovative and oftentimes hilarious entertainment. If you like DIY crafts, you'll love these trending kits that are hard to keep in stock.

1) Airbrush Plush
Got a knack for art yet never found a great place to test out your mad airbrush skills? How would you like a chance to turn a blank canvas into a masterpiece? Now, imagine your work of art is a huggable plushie! Wait, you mean you didn't like some of the colors you used in certain places? No problem. Simply wash your plushie and you can start over! That's the brilliance behind Airbrush Plush. Your stuffed animal collection will always be the most uniquely decorated plushies around.

2) Style 4 Ever Nail Art Case
Kids ages 8 and up will have a blast mixing and matching nail polish colors with stickers and glitter that are included in the Style 4 Ever Nail Art Case. Parents will love the lower price over nail salons and separately purchasing individual nail polish colors as well as decorative items, not to mention the time and gas spent while searching. If your child likes nail polish, this case holds everything needed to give each nail a touch of color or create that one-of-a-kind style topped with some show-stopper bling!

3) Art Lab Studios
Is there anything as satisfying as watching vibrant colors blend together into a swirling design? How about being able to watch in awe as a blank piece of card stock transforms into a treasured gift for someone you love by adding a splash of color to a stencil? With Art Lab's Pouring Art Studio and Watercolor Art Studio, no project is ever the same and each design is equally fun for people of all ages and artistic abilities to make!

4) Blingle Bands
Friendship bracelet kits have always been a hit! Now, children ages 7 and up can create over 30 designs of colorful bracelets with ease! The secret is in the use of the included Blingle pen and bands. Simply dip the pen into the wax, dot the selected gem onto the pen, and place the gem onto the band. That's it. Once all of the gems have been placed, your Blingle Band is ready to wear or share!

6) Jelli Rez Super Glitter Set
Looking for more DIY kits for jewelry crafting fun? The Super Glitter Set by Jelli Rez uses a unique molding compound that is safe for children ages 7 and up to use and sets in just 15 minutes! Create stylish accessories you can wear like rings, hair clips, bracelets, and necklaces in 3 easy steps with no messy clean-up required.

5) Tie Dye Design Station or Machine Spin Studio
Remember tie-dying in the yard or tub with tons of messy staining dyes to clean that always found a way onto the carpet or your other clothes? Cut to 2022 and be amazed how kids ages 6 and up can use a self-enclosed orb or tie-dye station to swirl their colors onto tanks and tees, headbands, canvas totes, and even shorts without the fear of escaping stains or splashes. Now, this is how tie-dye fun should be!

7) Selfie & Video Studio Kits
Another popular movement this year is to make better selfies, Reels, and Stories with kits like Selfie Creator and Studio Creator Video Kit. With the Selfie Creator, kids and adults alike can attach this LED lighting kit to any phone or tablet and turn the surrounding light into the perfect lighting for a spectacular selfie worthy of posting and sharing. Then, when it's time to capture a funny moment or memorable event in a video, the Studio Creator Video Kit includes an LED light held by its own tripod that delivers 11 lighting options to change the mood, soften your features, or light up the night. With the help of these two kits and your favorite editing app, your pics, Reels, and Stories are sure to look amazing!

How to Buy the Hottest 2022 Crafting Kits Wholesale
If you have not yet added the above DIY activity kits to your toys and crafting displays, we have great news! License 2 Play offers the most popular selling toys, games, DIY activities, and novelties available. Simply complete our registration form online to start shopping trending toys like these across all categories on our safe and convenient website. Enjoy!