Mar 29, 2022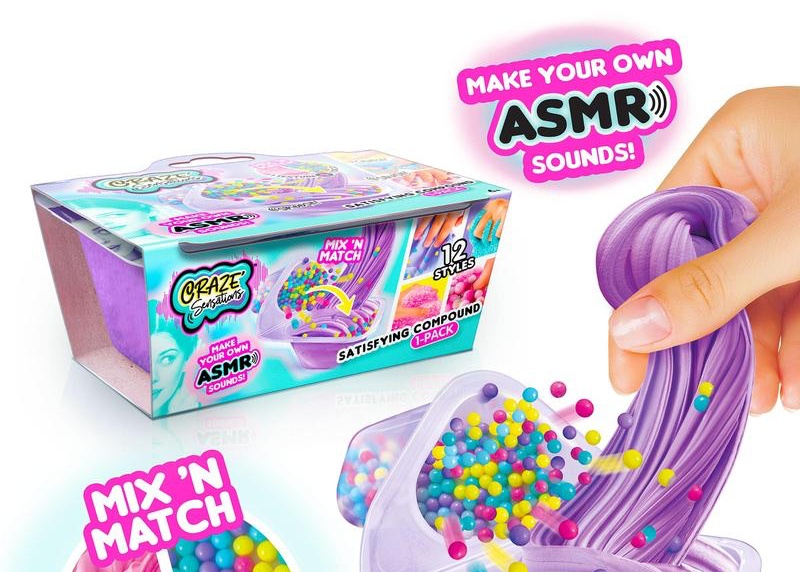 They are adorable, engaging, and fan favorites for those who benefit from or gravitate towards autonomous sensory meridian response (ASMR) and sensory toys. Check out these hot sellers that are sure to be a hit wherever they are sold!
Why are ASMR and Sensory Toys and Activities Trending
ASMR and sensory toys and activities are designed with special sights, sounds, textures, actions, and smells that help increase attention, decrease anxiety, and aid in the overall learning process. Parents and educators love these toys and activities for developing concentration and reducing stress. Children with special needs as well as those who are drawn to bright colors, silly characters, and stretchy and/or squishy fun can't get enough of them and it's not hard to see why!
DoodleJamz
Sure to quickly become a young budding artist's favorite squishy canvas, DoodleJamz is a non-electronic tablet that allows children to draw with colorful beads one of two ways. First, the child can push, squish, and pull the jelly bead mixture into a unique masterpiece or hand-drawn pattern. Second, a picture may be inserted into the tablet for inspiration and to follow the lines for just the right amount of color in all the chosen places. Either way, it's the perfect way to find one's inner zen and enjoy some relaxing time away from screens.
Heroes of Goo Jit Zu
If it's an assortment of textures they crave, then Heroes of Goo Jit Zu more than fits the bill. From crunchy to gooey, these ultra-stretchy characters can offer a variety of pleasing sensations. Also, they allow Heroes of Goo Jit Zu fans to act out scenes at home. Action heroes from the Galaxy Attack, DC Hero Pack, Marvel Hero Pack, and Sonic the Hedgehog are examples of some of the top sellers this year. Don't forget to appeal to dino fans with characters from the Dino Power Chomp and Jurassic World series. Plus, since they hold up to repeated pulling and pushing, they'll make the perfect stress-reliever!
Squeezamals
Super soft, satisfyingly squishy, and undeniably comforting, the Squeezamals are crowd-pleasers for any plushy collector. Best of all - as if the eye-catching colors, magic foam insert, and an assortment of exterior materials, depending on the character, aren't enough, these little cuties come with a sweet scent all their own.
One look at those bright happy faces, and you can bet it will be hard to choose just one! Luckily, there is a Micros 3-Pack for triple the squeezable fun. But, we would be remiss if we didn't also mention - the Marshmallows! What? That's right, get ready to squeeze and squish a marshmallow over-and-over again that will not lose its shape (or…stick to a graham cracker).
Shimmeez
Those who want a plushie with a little more pizazz they can take anywhere they go be wild about the Shimmeez Clip-on Assortment collection. These animal characters come with a shimmery coating of - wait for it - mermaid sequins! Does it get any better for those who like to flip the sequins back and forth, draw designs, or watch the colors change with the slight brush of one's hand. ??Actually, it does! These friendly-looking shiny plushies are ready for travel to school, the store, or a friend's house with their portable clip-on feature that attaches to any backpack or purse. Children will never have to leave home without a plush friend that doubles as an art tablet or fidget buster again!
So Sand
Sand that gives you tingles? When the goal is to create the pleasurable ASMR tingles, it's hard to beat the power of this magic glistening sand that is easily created by mixing together just three included ingredients. With So Sand, simply stir the glittery powder and gel into the sand and use the removable tool for an instant ASMR experience. But, the tinging fun doesn't stop there! Different containers come with different tools to create varied ASMR effects. Try them all!
Craze Sensations Mix n Match
Not enough textures? Get the ultimate ASMR experience with the Craze Sensations Mix n Match! This foam is playtime ready as is, but the included foam beads, clay shapes, and confetti add an extra something for those seeking a certain sound or feel. Who knew crunchy, crackly, or slippery foam could be so beautifully satisfying to smoosh, mold, and separate? It's the icing on the cake for ASMR activities or should we say the play icing with sprinkles in your fingers?