Jul 15, 2020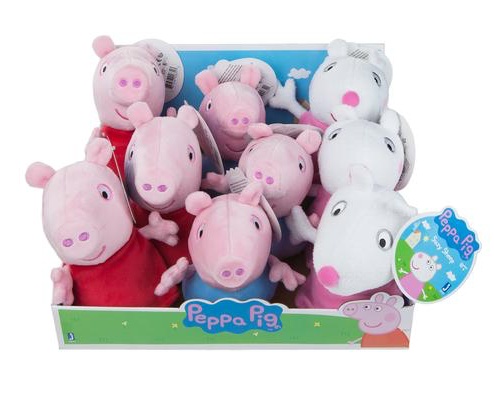 Be ready for shoppers to take end-of-summer road trips with these best-selling wholesale plush toys, including our newest arrivals! August and September are great months for a quick weekend getaway or final beach excursion. Help your shoppers to pick up a favorite plush toy or two for that last family vacay by having these no-mess toys on display near your checkout counter!

Peppa Pig
Speaking of new arrivals, our Peppa Pig assortment of toys has been a huge hit with consumers with no signs of slowing down anytime soon! This sweet piglet and her family have been introducing young minds to healthy concepts like sharing and acceptance on Nick Jr. since 2004. Now, a plush squeezable Peppa Pig and friends come in a couple of travel-ready sizes for convenient carrying wherever families roam. The six-inch Beanie plushies make sounds when squeezed. When the larger Peppa gets a hug, she oinks, talks, or giggles! Imagine the conversations these animals start when they are all together for playtime at home or on-the-go!

Scooby-Doo
This loveable character has been solving mysteries for generations! With another movie called "Scoob" released on May 15th of this year, Scooby-Doo fans are looking for clues on where to buy all their favorite character plushies. Made in the most adorable likeness, these soft four-inch and six-inch detectives are ready to star in a mini-sized adventure at home or wherever their child's storyline takes them!

Cats vs Pickles
Another newcomer to our line-up of easy-traveling toys is the highly touted Cats vs Pickles plush dolls. You have probably seen their videos and ads because these crazy cats are getting some serious attention in the media due to their heightened fear of falling pickles! This is because not only are they fun playtime cuddle buddies, but they also come with a QR code to download their own cat-mania game where consumers navigate through levels by avoiding being crushed by falling dills that just want to be loved!

Dumplings
While playing with food, why not add some Dumplings? These cuties come on their very own bamboo steamer carrying case, but they are already made and ready to play! No cooking or assembly required! These happy meal-sized Dumplings turn mealtime into family fun time!

Tiny Tukkins
Some of the best toys come in the smallest packages! These Tiny Tukkins playsets will keep kids in role-play mode from sun up till sun down by offering a variety of playset designs and characters to build new stories. There are babies, older siblings, and parents to collect along with four different background playsets and loads of accessories! If parents are hoping to spark some creative thinking, this series is ideal for the little aspiring caretaker in their home.
MushMeez, Shimmeez, & Squeezamals
Of course, sometimes long car rides and nighttime away from home calls for the squishy comforting power of larger plush toys like MushMeez, Shimmeez, and Squeezamals! Kids love the influencer and tv promoted Squeezamals foam-containing characters that go back to their original form when playtime is over. Plus, they come in different sizes and offer the challenge of collecting all 20! With Shimeez, consumers are amazed at the magical dual-colored sequins that can be flipped to create a different color, display letters and numbers, or simply mix and match for a unique style all its own. Mush Meez is made with magical molding clay that allows this adorable plushie to strike a pose or conform to make a supportive pillow for backseat slumber in the car.

Need More Clipable Plushie Fun?
At License 2 Play, we carry a large array of backpack clip-on plush characters so that kids can have a friend at home, school, or while running errands with Mom. In addition to our mini Scooby-Doo, MushMeez, and Squeezamals clip-on friends, we carry Fingerlings and Hatchimals Glittering Garden plush clip-on lines for soft cuddles and a happy face that brightens your day during local or long-distance travels alike!

Therefore, when it comes to the hottest wholesale toys, activities, and novelties, License 2 Play has everything you need to attract more visitors and sales! From characters inspired by the top watched tv shows, movies, and social media videos to fun creations that warm your heart while keeping the kids entertained, we have it all! Shop our easy-to-navigate website to learn more about our extensive selection. Then, take advantage of our quick and convenient registration using your business contact information and your Sales Tax Number to start selling the items that are on everyone's playtime wish list today!