Jul 29, 2021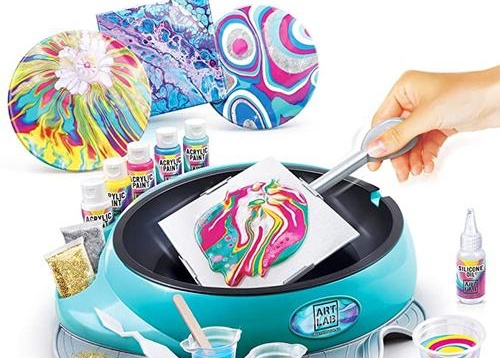 These hot-selling products add the fun to family night. Since the pandemic began, families have been searching for activities they can do together at home. The options below are fun for people of all ages and turn staying in with the family the best part of the week!

Swirl & Style Tie Dye Studio
?No more fears of staining the bathroom while creating beautiful tie-dye designs with our Swirl & Style Tie Dye Studio. Tie-dye t-shirts, leggings, socks, bandanas, headbands, baby clothes, and more with this all-inclusive kit that takes the mess out of the equation and leaves all the excitement of producing beautiful creations. Each box contains one orb station, 12 dye packets, rubber bands, gloves to protect hands from stains, and a design instruction booklet. Need more room for bigger projects? Try the Style 4 Ever Tie Dye Machine Spin Studio - perfect for all family members and friends ages six and up!

Art Lab Pouring Art Studio?
If artwork is more their speed, the whole family is invited to create stunning framable art with the Art Lab Pouring Art Studio. Up to five paint colors are included for mixing some or all in the Art Lab to produce a unique and colorful canvas or an eye-catching design that can be shaped with the included art tools. This studio contains the creation portion of each masterpiece, which means no more spills and extra ingredients to buy. Plus, Mom won't worry about making this an indoor project on rainy days. Older kids and adults will have a blast discovering the beauty behind advanced art techniques like puddle pour, swirl, flower, and more!?

Funatic Foam
When it's time to get outside for summertime or anytime fun, families can break out the Funatic Foam! Spraying up to eight feet away, this can of frothy soap is sure to make a splash with friends, family members, student campers, youth groups, and neighbors of all ages. Plus, Funactic Foam is specially formulated to be safe for eye contact and it won't stain clothes, rugs, or carpets. ??

Anyone up for a game of foam tag or sudsy slip-n-slide adventures on the lawn? Stock up on our wholesale Funactic Foam Slide to add a clean yet frothy twist to the traditional slip-n-slide. Kids can start their obstacle course by avoiding the sprays of goopy suds as parents take aim before plunging headfirst into the pool of clean foam on the Funatic Foam Slide. ??

How about a mission to recover the flag, but watch out for flying foam bombs that explode on contact! That's right. License 2 Play offers the wholesale assortment of canisters containing 11 ounces of clean fun, the Funatic Foam Slide, and a Wholesale Funatic Foam Bombs Blister Pack that includes one five-ounce can of Funatic Foam and four foam bomb shells to fill. Between these three soapy foam attack methods, even the kids who normally prefer to avoid baths and showers will get excited when they hear it's time to get clean!

D-Dart
Are your shoppers looking for more ways to have a blast with the family while getting exercise? D-Dart is the safe foam dart blaster that anyone ages six and up can use with ease to lay down ground cover while teammates find a better position or launch individual shots for closer range and still targets. Advanced high-capacity technology allows players to shoot up to 28 darts without reloading! Imagine 28 darts coming your direction at once that you need to dodge. Talk about your cardio workout! D-Dart just brought foam dart battles to a whole new level of action. Let the best team strategy win!?

Kits That Make Social Media Posts Rock!
Whichever activity your customers choose, social media kits like our Studio Creator Video Maker Kit, Selfie Studio, and LetsGlow Studio Kit will help families record, live stream, or post the laughter, excitement, and bonding moments to cherish for all time. The Studio Creator Video Maker Kit makes beginning photographers and starting social media influencers look like pros in any lighting. Selfie Studio enables individuals to bring video viewers into the action as they enhance their phone lighting options while streaming or recording their videos. At night, the LetsGlow Studio Kit will light up the dark video clips for the most glowing games and dances on social media!

Time to Place Your Wholesale Order!
Registering with License 2 Play is easy with our online form. Once approved, you can shop some of the hottest selling toys, activities, and novelties on the market in one location! When you stock your inventory with products from License 2 Play, no matter which toys or activities your customers choose, staying home will never be boring again!