Jul 11, 2019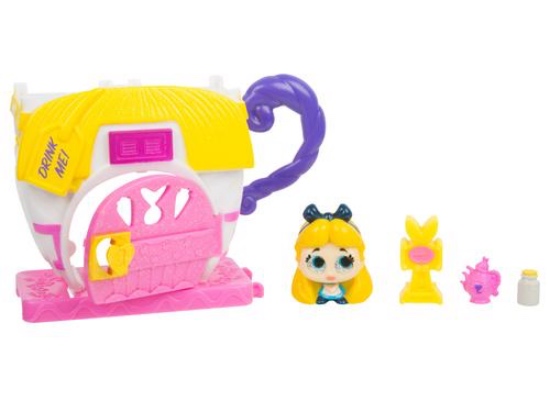 Good friends are great to have in any size, but what child wouldn't love a pocket-sized figurine or pet to take on errands and sleepovers? Plus, parents will approve of the myriad of benefits that imaginative play, also called make-believe, adds to the child's development. For example, did you know the act of creating stories for characters enhances a child's ability to communicate, problem-solve and show empathy? Join us as we explore some fabulous toys that would be perfect for parent-encouraged creative playtime during a road trip or on-the-go fun anytime anywhere!

Large Selection
Parents will enjoy shopping and running errands more when the children have take-along friends in Mom's purse to keep them occupied. There are many types of figurines and adorable pets or other interesting toys to choose from, so kids can switch them out for inspiring a unique play storyline idea to act out. Whether the child is into heroes or cute and cuddly, there is something in this size range for every child's make-believe fun!

Mini Fortnite
Forget the video games where winning is tough and the backgrounds and scripts are already created by someone else. These Fortnite action figures are ready to take on any attack a child or parent can fathom! Unleash the entertaining brotherly battles. Bring on the neighborhood turf wars. Let the crowd go wild wherever children roam with over 100 Fortnite figurines to collect that each come with swappable back bling and weapons. Who will be the last one standing in a game the kids get to create all by themselves? Parents should set their phones to video. These battles are sure to be epic!

Girls Rock!
Most of us grew up watching heroes save the day in comic series, television shows, and movies. These days, YouTube is making a splash in the entertainment segment. But, what if the story doesn't have to end when the show does or what if the script could be changed so that an old foe is now switching sides to help the heroes? The possibilities are endless for creative play with these mini figurines that kids can bring into their homes or wherever they go. Choose several characters derived from the hit YouTube series "Space POP". All figurines are carefully crafted to resemble the original characters. But, unlike the originals, these characters easily fit in a backpack or purse. Kids can mix-and-match or collect the whole set of their favorites heroes that will administer crushing defeats to all their foes!

Mini Fans
Every hero story needs a citizen to rescue and cheering section of fans. For action figures in need of fans or for children who like their pretend adventures to mimic everyday situations where they practice empathy and work through social challenges, the Best Furry Friends (BFF) collection might be a perfect choice. BFF's are three super cute friends, each of whom come with their very own pet plus accessories like a fashion bag and rolling luggage capsule. Children can select from Angelina, Cassandra or Zoe for friends, though they may purchase a whopping total of over 50 pets! These would be ideal toys for behavior rewards or animal lovers. Limited edition items include the rose gold Husky and glitter pink jelly belt bag.

Fancy Minis
Sometimes, the story calls for playing dress-up and wearing tiaras. Fancier storylines often involve a princess or two. This is why every store needs to line the royalty shelf with Disney Doorables. With Disney Doorable playsets and characters, an entire stackable Disney world can be built in the middle of the family room or bedroom. Portability is not a problem either as these princesses are just the right size for a pocket, Ziplock bag, or mini purse. Each figure resembles the original princess character making them easily recognizable to Disney princess buffs of all ages.

Mini Something Else's
When children are not in the mood for action scenes, friends with pets, and royal tea parties, they may get a kick out of these great toys that are the right size for travel everywhere children want to take them. Stock up on Bananas, Mighty Beans, Pikmi Doughmi's, Pikmi Pops, Shopkins, Lumi Luvs, and many more! These toys offer the full breadth of surprising and imaginative play characters. The Shopkins collection even comes with shopper friends to help with grocery selection, price checks, stocking, bagging or checking out customers! What could be better to turn boring parent errands into happy playtimes for kids?

As shown, good friends are not hard to find anymore! On a plane, in a store, or at a friend's house, these toy friends will keep children's creative juices flowing as they learn to reason through social dilemmas and practice empathy skills. Plus, at this size and price, all of these characters make great behavior rewards. Buy these collections today and watch as children squeal with excitement over their favorite toys being small enough to be considered take along friends!