Aug 01, 2016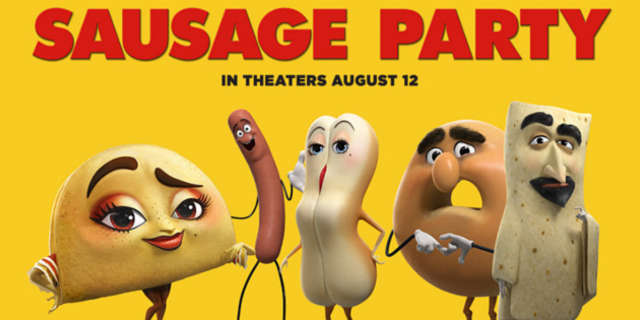 While the majority of animated films are made with children in mind, the genre has been open to adults since the early days of animation, and the successes of early adult works such as Fritz the Cat and Heavy Metal are a testament to that. Today, adults watch more cartoons and animations than ever, with age groups between 18 and 44 making up nearly 34% of all animated film audiences for Disney, Pixar, and other animated studios, including for films that are made for kids.
Sausage Party is a new animated film hitting theaters on the 12th of August around the world, and it is made exclusively for adults. The R rated animation spoofs Disney and Pixar films, which are often written around the theme of "What if this thing had feelings", for bugs (A Bugs Life), toys (Toy Story), fish (Finding Nemo), and many more. In this case, that what if is "food", and with a rowdy comedy cast including Seth Rogan, Kristen Wiig, and Jonathan Hill, it's sure to be a combination of laughs, emotion, and enjoyment for adults of all ages.
The movie considers what would happen if the food had feelings and follows the story of Frank, a hot dog living in a grocery store with his hotdog bun girlfriend Brenda, while they wait to be 'chosen' by a human. When they find out what really happens, they set off on an epic adventure to warn the rest of the groceries at the store before they too are eaten.
More importantly, the cast includes a loveable array of characters including Frank the Hotdog, Brenda the Hotdog Bun, Carl the Sausage, Sammy Bagel Jr., Teresa the Taco, and many more. Each of these toys are personified foods, with their own personalities and style. And, those characters have now come to life in the form of the adorable Sausage Party plush toys now available for wholesale at License 2 Play.
For those wondering how plush toys tie into an adult animation movie, adults buy and love plush toys just as much as children do. In fact, in a survey of over 6,000 adults, over 35% admitted to not only owning plush toys but also keeping them on their bed. Plush toys are easy to collect, loveable, and work well as gifts for adults and older teens who want memorabilia, merchandise, or a fun gift for a fan of the movie. But, our wholesale Sausage Party stuffed toys aren't just for adults, they're loveable for anyone who likes food, even if they aren't yet old enough to go see the movie.
With a large box office opening expected, a free promotional app, and over 600,000 followers on their social media page before the release of the movie, Sausage Party, and its plush toys are sure to be a huge hit with audiences of all ages.
Sign in or register with License 2 Play to get started with buying your wholesale Sausage Party toys. License 2 Play has been manufacturing and distributing wholesale toys and gifts since 2004. We offer a wide range of products and brands including Shopkins, Disney, Angry Birds, Poppins, Warcraft, and more. Sign up using our registration form to get started today.