Apr 01, 2022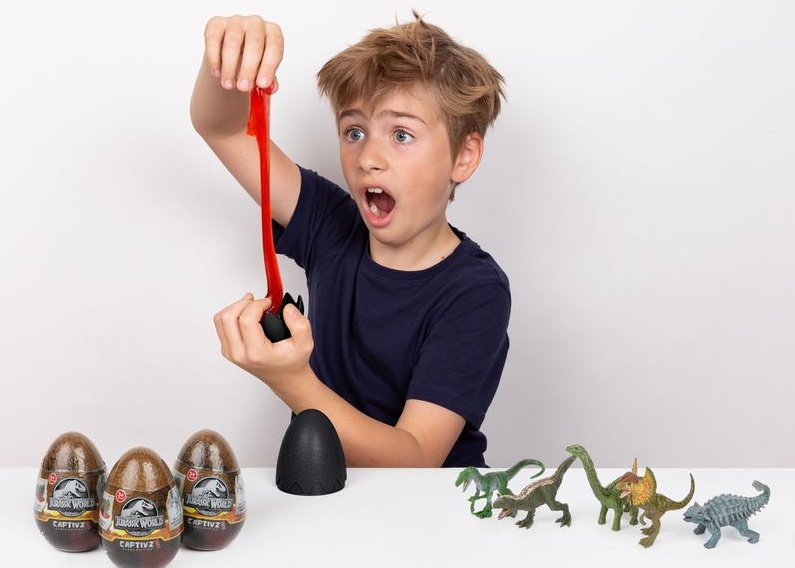 With the Jurassic World Dominion movie release date of June 10th fast approaching, it's the perfect time to stock up on toys excited fans will want to buy! Hurry to see which items are sure to be a hit and how to promote those items both in your store and online to help build a loyal fan following of your own.

What is "Jurassic Park World Dominion"
On June 10th, the latest movie in the Jurassic World Series called "Jurassic Park World Dominion" will be released for moviegoers everywhere to enjoy in nearby theaters. Jurassic World fans are already giddy with eager anticipation as the last movie release was in 2018 leaving a four-year gap to brew excitement in dinosaur aficionados around the world. Plus, much like Star Wars and Marvel movies, this action-adventure should pique the interest of a wide range of patrons from school-age children to multiple generations of adults. In other words, this movie is just what the summer of 2022 needs to cure out-of-school rainy day blues and bring families together.

Hot Items to Order Now!
Going to see the movie is only one way for individuals and families to experience "Jurassic Park World Dominion". Toys like these are sure to attract shoppers to your store this summer to break up summer boredom, keep kids entertained on long trips, and help kids stay connected with friends at playdates and parties.
Slime Eggs - These slimy gooey Jurassic World dinosaur eggs will let kids reveal their own dinosaurs hidden inside! Each egg will contain a movie dino character that fans will want to collect. Be sure to check out the Clash Edition for characters that display the wounds where they were attacked in the movie for those who follow each character's storyline.
Zoom Riders - Jurassic World dinosaur character cars showcase detailed replicas of nine different dino characters that race to victory following a gentle backwards pull. Nothing deters these zoomies from reaching the finish line - not even a bumpy track or a transition to the carpet. That's because these pull-back cars feature all-terrain wheels with a thick tread and iconic hub caps that are always ready for an epic battle!
Heroes of Goo Jit Zu - Jurassic World characters keep it together and don't get bent out of shape, right? Well, maybe they do just a bit or perhaps quite a lot. But, fans can expect their favorite dinos to return to their original forms in the Heroes of Goo Jit Zu Jurassic World line of stretchy replicas. These dinosaurs can be stretched up to three times their size and still regain their original shape time and time again for endless fidgety fun!
Pop Ups - Kids go crazy over these toys that are also tasty treats wrapped together in one double-the-fun wand! Each toy wand in the Jurassic World line-up will display a character replica head and hold a delicious lollipop inside. Best of all, these candy holders come with three lollipops with each purchase!
How to Develop a Quick Marketing Plan for Your Products on the Cheap
Of course, ordering the above toys and putting them on display in your store are just the first steps to increased sales. In order to attract more shoppers to your store this summer, you'll need a good marketing plan.

One of the easiest and most cost-effective ways to promote new or popular products is to send out an informative email to your loyal customers. Let them know which items will be available for purchase as well as any grand reveal dates and times you plan to offer. Making the arrival to your store an event can help bring shoppers to your physical location or your website as well as improve sales on other items that will likely be purchased while browsing.

Don't forget to spread the word about such an event or the addition of your new products to your store inventory on social media platforms like Facebook, Instagram, LinkedIn, TikTok, and Twitter with frequent posts. Be prepared to showcase these products with attention-grabbing pics, videos, and descriptions.

Then, prompt more online consumers to visit your website by adding a link to your blog articles and product listings in your Facebook and LinkedIn posts. Ask followers to click on the photo or link to view the full description of each product and find more movie fun facts or other surprises you plan to offer on your website or in your store for your dinosaur fans of all ages. Finish up your marketing strategy with local pay-per-click ads to catch related keywords and phrases from people searching for your products. Just don't forget to replenish your inventory to build more customer retention and coveted 5-star reviews!