Aug 31, 2022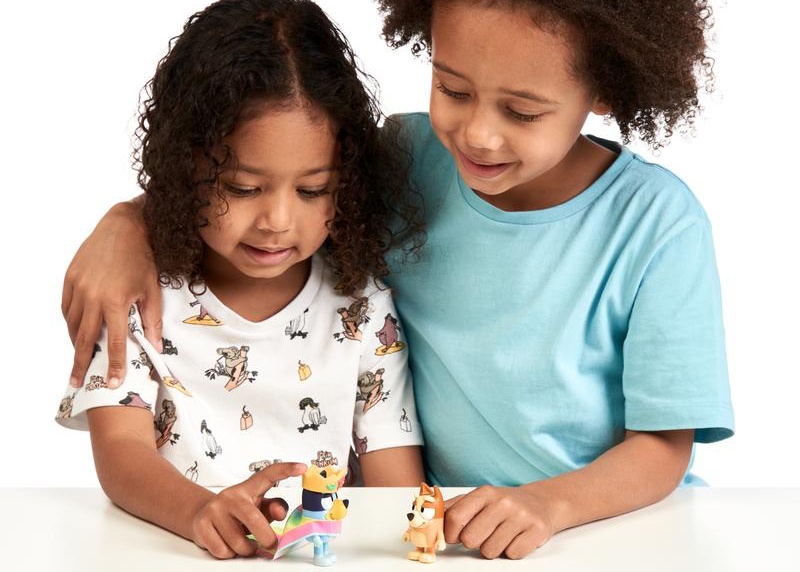 School may be in, but travel plans are already in the works for fall and winter break. That means the problem of keeping the kids entertained while on the road or in the air is about to become a retailer's challenge to solve. Don't worry - we've got you covered! By keeping these toys in stock, parents will be able to find all of their child's favorite travel-sized toys in one convenient location.

Bluey and Friends
If you have young children, then you likely know all about Bluey, the adorable Blue Healer who gets into lots of awkward situations with her friends and family in a hit animated series that is now available on Disney+ and Disney Junior. The secret to Bluey's success might lie in the fact that parents as well as older children love Bluey just as much as the younger kiddos due to the hilarious comedy that is sure to follow each uncomfortable yet embarrassingly relatable scene. Plus, it's all done in the name of good fun and learning how to be a better friend.

Thanks to the Bluey and Friends replicas, when the television, laptops, tablets, and mobile phones are off on the airplane or in the car over fall or winter break vacation, the laughs and crazy antics can continue without skipping a beat. This means no muss and no fuss when it's time to unplug because Bluey's whole crew is always ready for action anywhere anytime whether at home in the living room or on the go! Moreover, each figurine stands just under 3" making these characters the perfect size for family travels or a trip to the grocery store.

Squishville Mystery Mini Squishmallow Plush
Another travel-sized toy series that has been taking 2022 sales by storm is the Squishville Mystery Mini Squishmallow Plush line. These miniature plushies have been designed after 24 of the most beloved and sought-after Squishmallow characters, and all they come with the super soft squish material everyone loves to mash and cuddle. When it's playtime, each character can squeeze their way into interchangeable fashions to make a captivating entrance into any story plot. Moreover, one outfit is already included with every Squishville Mystery Mini Squishmallow Plush, which means the dazzling attire selection will increase with each mystery plush purchase.

Also, since these miniatures are hiding inside a specially-made capsule, there will be no peeking until the big reveal on the road, on the boat, or in the sky! The added bonus is particularly helpful for parents who would like to use the toys as rewards for nice manners and sticking close while walking in crowded places like the airport.

Heroes of Goo Jit Zu Goo Shifters
Action hero fans have not been forgotten in 2022! The Heroes of Goo Jit Zu have a new line of Goo Shifters to collect, along with a long listing of equally squeezable, squishy, crunchy, and crackly characters. With this latest line of battle warriors, however, there is a special goo inside that releases the character's inner power and ensures victory in the battle to save the planet! With color-changing gooey centers and stretchy extremities that always come back to their original form, kids will stay entertained for hours no matter where they roam.

Dogs Vs Squirrels
Dogs are always adorable. But, these tiny cuties have one giant-sized job! They must protect their territory from the pesky squirrels that create trouble anytime they are around. From chewing things they shouldn't to digging through Mom's purse, these crazy squirrels are up to no good and only the most alert watchdogs can stop them!
DoodleJamz Light Up Sensory Drawing Pad
Just because the sign says no electronics doesn't mean the table fun has to end! Budding artists and children who may struggle to sit still on long trips will be mesmerized by the entrancing power of the DoodleJamz Light Up Sensory Drawing Pad. This tablet lights up to attract the child's attention and allows the user to transform an ordinary picture into a fabulous masterpiece with the squish of a finger or by shaping the crafty creation using the supplied stylus pen. Inside each vacuum-sealed drawing pad contains a removable picture and soft colorful gel and beads that can transform any photo or sketch into something unique for hours of entertainment.

Where to Find Wholesale Travel Toys
License 2 Play carries the latest trends in wholesale toys, games, and novelties. We research the hottest sellers on the market so retailers can enjoy stocking their shelves with items that shoppers are actively searching to buy. If you are new to License 2 Play, simply complete our online registration form and enjoy browsing our extensive selection of some of the fastest-moving products available.