Oct 01, 2017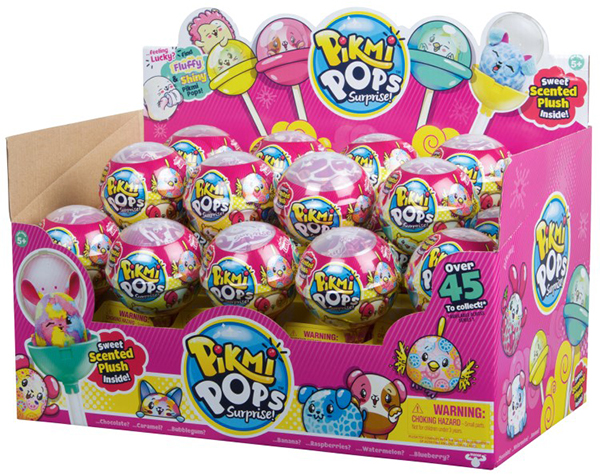 If you're wondering what kids are into this month, look no further than the Pikmi Pops surprises from Moose Toys. These adorable collectibles are hidden inside of a lollipop, but you won't know which one you're getting until it's time to unwrap the toy. These tiny toys make great cash register displays, because their small size and low price easily tempt customers to make an impulse purchase.
It's Not a Lollipop – It's a Pikmi Pop
Kids always want lollipops, and parents are equally reluctant to buy them. They're just not good for your teeth and full of sugar on top of it. But now you can buy something that looks like a lollipop but is even better, because it's a toy instead of a treat. Pikmi Pops are adorable little figures that come hidden inside of a lollipop vessel. Their identity is secret until the excited child unwraps the toy.
What's Inside the Pikmi Pops Pack?
Every individual Pikmi Pop pack includes a scented plush friend, the lollipop vessel, a surprise message, a dangler string, and a collector's guide. The dangler string allows kids to attach their favorite friend to their book bag, keys, or spiral notebook. And the scent? That's a surprise, too. The Pikmis come in 12 different scents.
There are over 50 different Pikmi Pops to collect. Many of these friends are soft, some are extra fluffy, but you'll also find some metallic and glitter friends, too. Of course, the selection is entirely random, so your customers will never know which one they're going to get this time.
Never Underestimate the Element of Surprise
If Pikmi Pops were sold without the blind packaging, kids would probably still like them. After all, the characters are little, cute, and even include a fun message to make kids laugh. However, the element of surprise is really what helps sell these toys. Children are tempted by many toys in your store, but the ones that include unknowns are the most tempting. Getting one of the Pikmi Pops is a lot like having a birthday or getting a Christmas present. You don't know what's inside of it until you open it.
Pikmi Pops Are Collectibles
Many toy manufacturers understand that creating a collection of toys generates more demand than individual toys. Tiny figurines like the Pikmi Pops lend themselves well as collectibles, because they make inexpensive gifts. Kids may even be able to purchase them with their allowance.
Every Pikmi Pop pack includes a collector's guide to help you find out which ones you already have and which ones you're still missing. Kids can even trade possible duplicates with their friends to reach their goal of collecting them all sooner.
As with the Shopkins collection, Moose Toys has made collecting every Pikmi Pop a little bit of a challenge. There are common characters, but there are also rare and ultra-rare Pikmis. Additionally, you'll find that there is a limited edition and a super set to collect from. And that's just Season 1. If their popularity doesn't abate, then you can expect Moose Toys to add an entire new collection with the next season.
Sell Pikmi Pops at the Cash Register
Pikmi Pops are great for displaying at your cash register. At this point, your customer is ready to check out, but when their child clamors for one tiny toy to play with right now, this is one they can say yes to. At License 2 Play, we offer a 6-piece and 18-piece counter display. The display itself is brightly packaged and certain to catch the eye of your customers.
Get Double the Surprise
Pikmi Pops also come in double packs. That means you get to unwrap two scented Pikmis, but the bigger lollipop also includes three surprise prizes, three dangler strings, and two messages. With the double-pack, there's hardly room for disappointment even if the child already has one of the Pikmi Pops in their collection at home.
Who Are Pikmi Pops For?
As a retailer, you have to know which merchandise you're carrying to offer it to the right customer. But who is the ideal customer for Pikmi Pops? Because of the small pieces inside the lollipops that constitute a choking hazard, Pikmi Pops are not suitable for children under the age of 3. However, no one else needs to resist these toys, because they can entertain kids all the way through elementary school.