Dec 01, 2021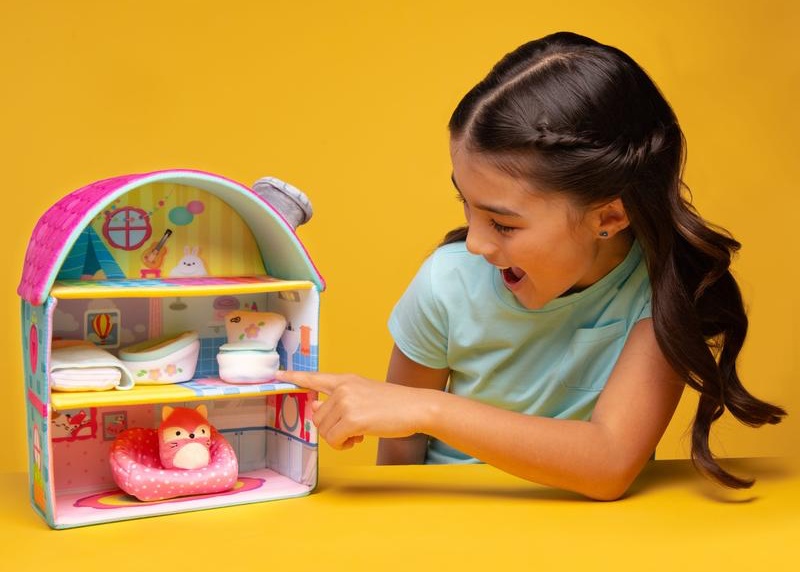 If you are looking for the hottest selling toys to kick off your 2022 inventory, it's hard to beat the Toy Of The Year (TOTY) Finalists. These toys go through rigorous standards to be selected for their innovation, promotional value, and, other influencing factors. Place your order for these finalists found in stock at License 2 Play today before they sell out!

1) Akedo Action Figures
Nominated for "Action Figure of the Year", the Akedo Ultimate Arcade Warriors offer a way for kids to create epic battles on the go, in the living room, or in the specially designed Akedo battle arena. Toy Insider named the Akedo Battle Arena as a "Top Holiday Toy" for 2021, and it's not hard to see why. From the 35 battle sound effects to the training mode that lets the players prepare their characters for the main event, this battle arena is sure to be a hit over the holidays and throughout the year.

2) Heroes of Goo Jit Zu ?Action Figures
Also nominated for "Action Figure of the Year", this series has been a hot seller since it was first released in 2019. For action figures, it's hard to go wrong with promoting this squeezable, stretchable, and smashable series. Each Heroes of Goo Jit Zu character has a special superpower that kids can use in their epic battles. Best of all, these characters are the perfect fidget busters as they can crunch, pop, squish, or pull the characters for more engaging playtime fun. Discover what all the talk is about by watching the animated series on Netflix or YouTube. Then, try collecting all the characters from the original Heroes of Goo Jit Zu, DC or Marvel hero packs, Dino Chomp pack, or Galaxy Attack pack. We know you'll agree this toy series belongs at the top of any toy wishlist!
3) Squishmallows ?Plush Toys
These delightfully smooshy toys are based on the characters are from the land of Squishville in a popular animated series on YouTube. Squishmallows have been nominated for "Plush Toy of the Year" because of their magical gooey center, soft exterior, friendly faces, and that extra sprinkle of colorful pizzazz kids love. Perfect for fidget-busters and nighttime friends, this group of adorable cuddle-worthy characters are always up for playing, studying, or resting. Best of all, they come in a mini 2-inch size that can easily travel in any purse, bag, or backpack. Psst…don't forget their super fun assortment of decorative playsets and accessories. Collect them all!

4) Bluey Toys
Of course, no TOTY list would be complete without the hot-selling toys based on the hit "Bluey" animated series! This cartoon helps children understand it's okay to make mistakes and follow your own path as Bluey, a blue heeler, stumbles her way through a series of socially awkward situations the whole family will laugh out loud over. Viewers can watch this award-winning series on YouTube, Disney Junior, and ABC Kids and continue the hilarious adventures when the electronics are off by playing with Bluey characters, playsets, bath squirters, and games from License 2 Play.

Whether it's time to run errands, playtime, bathtime, or game time, Bluey toys and games are sure to create laughter and memories for anyone over three years of age. Bluey toys come in a four-character pack, story starter packs with a mini scene for each character sold, and a plushy assortment. The funny expressions, posable figures, and comical adventures will have anyone who is familiar with the animated series giggling from the moment the toys are opened. Couple them with the mini playsets, Bluey's house, or the family car for more ways to build imaginative adventures for Bluey and her family and friends. Plus, Bluey games bring people of all ages together with Bingo's Bingo, Bluey's 5-in-1 card game set, and Bluey's Shadowlands board game.

Retailers can Find All of These 2022 TOTY Finalists? at License 2 Play!
Ready to place your order for some of the hottest toys on the market? License 2 Play has them in stock and waiting to ship. From figurines to plushies and games, we have the wholesale toys your shoppers are searching for both online and off. Register your store with us on our secure website today. Once approved, enjoy browsing all the fan favorites on our easy-to-navigate website that includes a fast and secure checkout process. Just don't say we didn't warn you that these toys may be hard to keep in stock!