Jun 01, 2019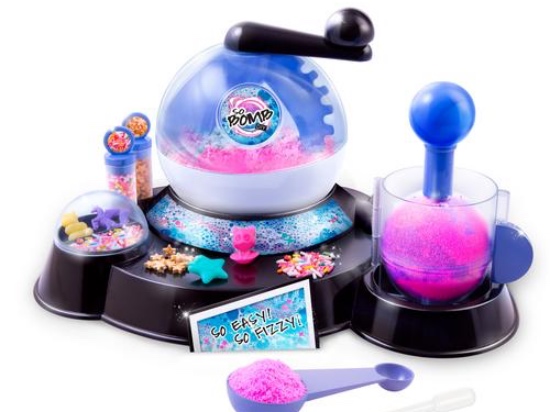 Don't miss out on a chance to take full advantage of those summer profits by adding a ton of fun to your customers' days with these toys on your shelves. They are easy to set up, and a breeze to clean up. Plus, they can be used both inside and outside for double the awesome playtime. If your customers come to your store searching for a cure for out-of-school boredom, they will find it with these!

Toilet Paper Blaster
If it's a blast your consumers are looking for, then how launching hygienic spitballs made from water and toilet paper up to 30 feet using this kid-friendly Toilet Paper Blaster? The whole family or neighborhood block can have a great time perfecting their stealth, hiding, and attack strategies. Kids will laugh as they safely dodge the flying spitballs. Moms and dads will appreciate the easy biodegradable clean up without leaving behind streaks or a gooey mess. Even re-loading is simple as long as you have toilet paper and water nearby. Just be sure to stock enough for the family to buy a couple at a time because two or more players always take the excitement to the next level.

World's Smallest Super Soaker
This mini version of a water launcher is so tiny it could easily slip unnoticed past mom and dad until they are in close enough range to let the games begin. Nothing says summer is here like being soaked with water, and this World's Smallest Super Soaker is just the right size to get the literal drop on any unsuspecting nearby victim. Best of all, it works in the bath or pool for distance and accuracy squirting game fun.

Oober Oonies
Balloons are a classic way to entertain the kids. However, what if they could add stickers and googly eyes to make that balloon into a unique character they made from scratch? Now, imagine that balloon inflates with a straw into a huge bubble that can be carried to a friend's house or deflated only to be re-inflated at a later date. Oober Oonies start small and grow into massive toys that can be tossed, bounced or kept high in the air.

Try setting a few out in the storeroom play area to watch the customers giggle with creative new games they make up to play with the Oonies. Each Oober Oonie package includes an inflator straw and stick-n-style accessories. Children can work their magic creating an Oonie that is as wacky as the name by sticking on outlandish hair, eyes, and more.

Slime Bubbles
Speaking of bubble fun, let's add slime to the mix to turn any rainy day or downtime into a craft day kids will remember. Everyone is fascinated with slime, and why not? There is something about that nearly solid substance that can keep families and friends creating, talking and making memories for hours. Plus, there are so many things you can do with the slime such as mix colors or add glitter. Add Slime with Bubbles and you get Slime Bubbles!

Slime Bubbles are the best! Kids first create the slime and then use the provided straw to turn it into a bubble they can play with like a balloon or Oonie. Perfect for sleepovers and parties, Slime Bubbles come in three different colors to share or mix together. The kit even comes with its own storage bag and container. For a party favor that children will enjoy long after the party, Slime Bubbles rock!

Bath Bombs
Are your customers searching for a way to make bathtime more appealing? Then, it is time to break out the Bath Bomb Factory for fabulous creations that will sparkle and fizzle! Mix up to six colors in this magical factory that produces scented bath fizzing explosions that make even the most unsure bath taker curious.

So Soap
If the bath bombs are a bit too fizzy, suggest the So Soap Factory where children and their friends can mix, frost and decorate their own bath soap. With So Soap, kids can invent a storyline to go along with their creations and give them as gifts to friends and family members alike. No more boring suds or excuses to avoid the bath. Children everywhere will look forward to seeing how clean they can get with the items they made in the So Soap Factory!

When summer starts to bring the reality of being at home all day with only video games and television to stay occupied, moms and dads will be asking for some helpful toys that will be interactive, safe, simple to prepare and a cinch to clean up. These toys offer indoor and outdoor play that can keep all the family engaged in making memories together. Stock up today, and be sure you have enough for kids to share with their friends who want to join in the summer fun!