Nov 01, 2021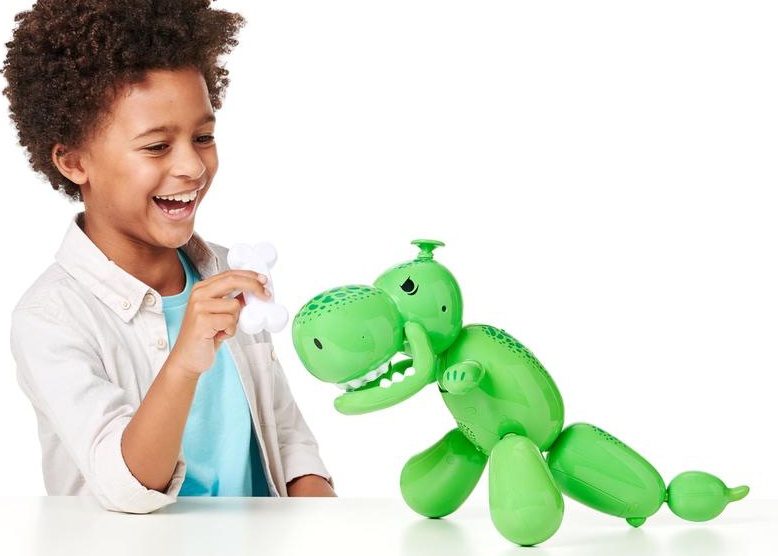 Trying to decide which toys are attracting the most sales in 2021? Check out which of our popular toys from License 2 Play made the USA Today, Amazon, and Toy Insider top holiday toy list. But, be warned - These items sell so fast they are hard to keep in stock!

Younger Children Toys
Is it a dinosaur toy or a balloon making all of those silly sounds? It's both! Squeakee Dino has been featured on both USA Today and Amazon's hot toy list for featuring over 70 sounds and the fun games he loves to play. He'll walk, chomp, and dance his way into the hearts of young children everywhere! From cute nuzzling movements and sounds when he receives pets to playing fetch with his toys or jamming out to his beats with his cool headphones, this Dino is on the move grooving to his own rhythm in a unique and hilarious way.

It's hard to keep Bluey toys in stock as this lovable Blue Heeler finds her way through socially awkward situations with some comical help from her family and best friends in a popular children's cartoon on Disney Junior and YouTube. If you think the cartoon is a hit, wait until your shoppers learn they can pick up the Bluey Family Home Playset that has been featured on USA Today's hot toy list for the 2021 holidays to continue the funny antics at home. Bluey toys are yet another reason keeping the little ones entertained while making dinner, cleaning the house, working, or running errands is not a problem with trending toys from License 2 Play!

School-Age Children
Psst…wondering what Toy Insider posted this year for their hot toy list for the 2021 holiday season? Here's a hint, we offer 11 of them in one easy-to-shop location! If you have been in the toy industry for multiple years, you will not be surprised to find Treasure X topping the charts again for trending toys. This time, the series is making waves for the Treasure X Monster Coffin. With 13 levels of adventure, new 5-inch monster figurines, and mix-and-match body parts, these toys are offering ghoulish fun for all.

Heroes of Goo Jit Zu is also back at the head of the pack with their Heroes of Goo Jit Zu Galaxy Attack Air-Vac Pac. With their new air-vac suits, these stretchable action figures can now hold their stretched-out pose for building the best battle scenes or most hilarious holiday photo bombs around!

Speaking of comedy, Toy Insider knows no holiday wishlist would be complete without a few huggable pickles and some freaked out cats from the Cats Vs Pickles series. In fact, Toy Insider added three of the series to their list for stocking stuffers and gift must-haves! Be prepared to see these colorful characters of all sizes making an appearance in reels and videos throughout social media channels this holiday season.

Want to know about more school-age toys that won their spot onto the Toy Insider hottest-selling holiday toy list for 2021? Our Akedo Ultimate Battle Arena, VIP Pets Color Boost, Airbrush Plush, and Scrunchmiez were all highlighted as toys that will attract more buyers to your store this season. Whether your customers like action figures, creating new hairstyles that are sure to turn heads, or coloring their own plushies, stocking these items is a great way to make sure you have something for everyone in your store before the holidays arrive.

Tweens and Teens
Let's not forget about the older kids who love to personalize, accessorize, and make it TikTok, Instagram, YouTube, or Snapchat ready! That's why Toy Insider listed Bingle Bands Deluxe Studio and USA Today awarded Lets Glow Studio a spot on the hottest holiday toys in 2021. Bingle Bands Deluxe Studio allows tweens and tweens, along with family members or friends over the age of seven to simply dot their way to fashionable jewelry. As a bonus, these bands make beautiful gifts with unique designs they're sure to cherish.

Lets Glow Studio allows social media fans and influencers to showcase their talents in bright neon colors as the lights go out! Live streaming after dark just got more exciting than ever with non-toxic reflective stickers, tape, hair clips, and an LED clip that captures the moment in the best light every time.

Where to Buy These Top Holiday Sellers and More!
Find all the best-selling toys that attract shoppers throughout the year by browsing our website using our intuitive navigation options. Not registered with us yet? Simply complete our online registration form and, once approved, you can have a blast placing your order for trending items that sell fast!