Aug 01, 2021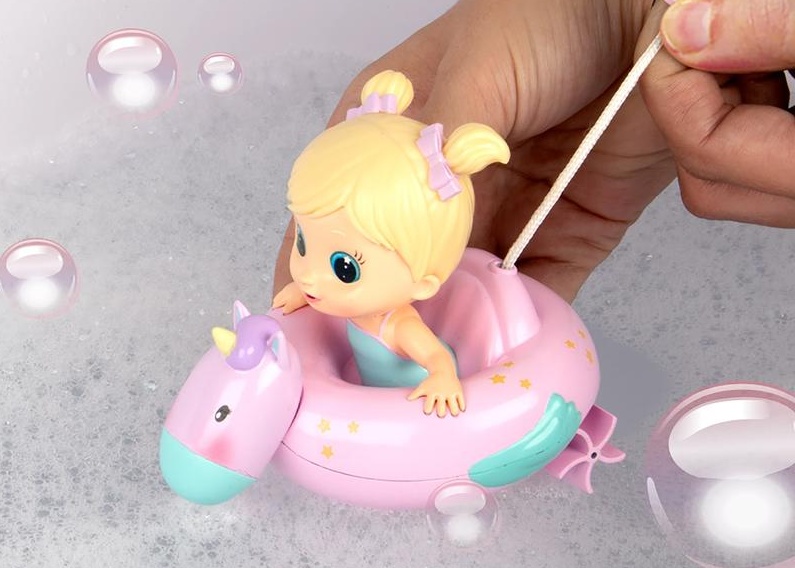 Water toys are a fun way to turn bath time into a super fun adventure or add memorable excitement to time spent with the family outdoors. Looking for the hottest selling water products for your inventory? Check out some of our favorites for each age group.

Make Toddlers Excited About Bathtime
If parents are trying to find a way to help their young children look forward to bath time or enjoy their time in the pool more, we suggest Bloopies Floaties. As their name implies, these collectibles come with their own adorable animal floats. Pull their string and watch the Bloopie characters swim around the tub or pool in style with their colorful accessories and floats. Then, kids can laugh until they get the hiccups as they squeeze the Bloopies Floaties to squirt a steady stream of water at Mom or Sis! With Bloopies Floaties, bath time is no longer something to dread!

Early School-Aged Kids and Mischief Makers
Speaking of bath time squirter toys that kids love, Bluey's extremely popular cartoon filled with mischief and adventure comes to life in the tub or pool with Bluey Bath Squirters. Each pack comes with a floating Bluey character, a floating Dingo character, and a floating beach ball that show kids playtime doesn't have to end when it's time to get clean. All three included items squirt water that is collected by submerging the toys underwater. Then, simply push on the character's head or the beach ball and aim! ??Kids can act out Bluey scenes in the bathtub while building social skills and helping Mom clean the soap off the sides of the tub or clear out the soap bubbles with Bluey Bath Squirters. But, don't say we didn't warn you. These Bluey toys are such hot-sellers they are hard to keep in stock!

Tweens Looking for a Sneak Attack
Tweens are ready for the next level of squirting fun. For this age range, we suggest the World's Smallest Air Pressure Super Soaker50 and the World's Smallest Super Soaker Barrage! Instead of waiting for a pool day, all tweens need to launch a sneak attack on their siblings, parents, or neighbors is a glass of water. With a reach of up to 25 feet, these soakers are tiny but mighty! Plus, each refill provides up to 12 chances to hit the target. Perfect for still or moving target practice, creating a tactical strategy, and laying down cover fire while getting closer to the freshly made cookies.

Playtime Action for the Whole Family!
Everyone in the family has a blast when the foam comes out! If it wasn't for the effort involved in making the foam and the extensive clean-up, playing with squirting foam could become a weekly activity. Introducing the magic of Funatic Foam from License 2 Play! This wonderfully scented cleansing foam is safe for eyes, won't stain clothes or carpet, comes pre-mixed, and sprays up to eight feet.

Bye-bye excessive screen time, there is a new family activity in town that engages people of all ages and it is flying off retailer shelves everywhere! ??Wholesale Funactic Foam is sold in your choice of 12x 11-ounce Funatic Foam cans, a Foam Bomb Blister Pack with a five-ounce can of Funatic Foam and four bomb shells to fill, and/or a Funatic Foam Slide. In fact, this item has been so popular, License 2 Play has added a 48-piece floor display to give Funatic Foam cans their own special space and attract more sales!

Where to Buy The Hottest-Selling Wholesale Toys
In this article, we have shared some of our most requested water toys for every age group. Bloopies Floaties and Bluey Bath Squirters will keep the toddlers and young school-aged kids busy all year long both in the bath or at the neighborhood pool. The World's Smallest Air Pressure Super Soaker50 and the World's Smallest Super Soaker Barrage will challenge tweens as well as Mom and Dad to stay on their toes. Funactic Foam products eliminate the need for messy prep work and clean-up while keeping the entire family entertained.

To order these and hundreds of other top-selling wholesale toys, DIY activities, games, and novelty items for your store, simply fill out our registration form online. Once registered, you can shop with ease using our intuitive navigation menu. Then, complete your order with our safe and secure checkout process. Make License 2 Play your one-stop solution for wholesale toys, gifts, novelty items, activities, and more today!