Aug 25, 2021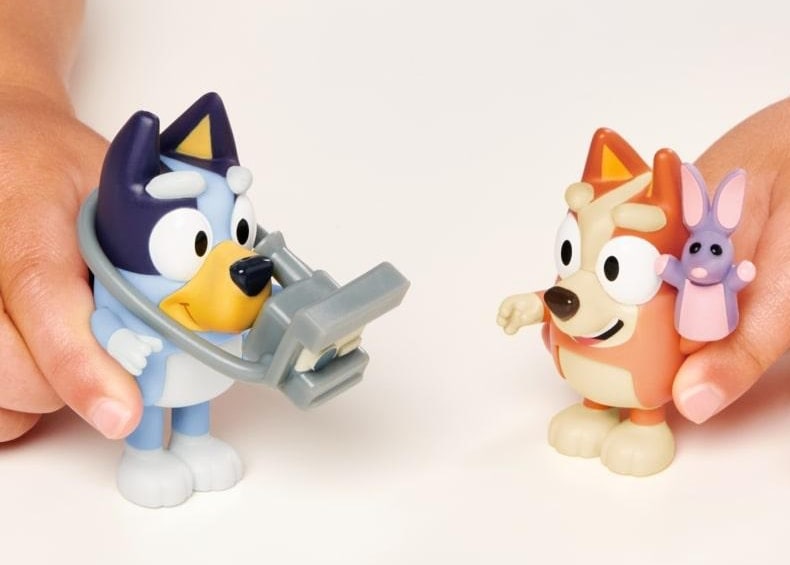 These hot selling plushies, figurines, and playsets have been some of the most sought-after toys for summer 2021! Check out what retailers everywhere are excited about stocking as consumers search online and off for these top trending toys.

Bluey Playsets, Plushies, and More!
When talking about the best-selling toys of summer 2021, one has to begin that list with toys based on one of the most widely watched cartoons in the U.S. and abroad. "Bluey" is animated series is based on zany characters that the whole family loves to watch, including parents! As a result, fans are scouring the stores for Bluey playsets, figurines, games, and plushies to add to their collections at home for continued play during screen-free hours. License 2 Play offers Bluey's greatest toy hits from plushies that give the best nighttime cuddles to playsets that let Bluey's adventures never end or games that give friends and families fun bonding activities for family game night.

Cocomelon Toys
Another super popular hit with younger children are toys based on the hit cartoon series "Cocomelon". Between the bright colors and the musical sounds, younger audience members are drawn to this animated series. Toys related to this series include figurine sets, a role-play musical checkup case that plays nine songs, a musical school bus that carries up to six character figurines, and, of course, a Cocomelon musical bedtime JJ doll that comes with seven sounds and phrases.

Space Jam Legacy Figures
Got Space Jam on your mind? If so, you have probably watched the "Space Jam: A New Legacy" movie trailer or you have already seen the movie that was released this past July. Currently, this movie is in theaters and on HBO Max, and it is a great family movie for kids who enjoy the comical entertainment aspect as well as the positive message, basketball fans as this movie stars Lebron James and offers many cameo appearances from other famed sports legends, and parents who are able to reminisce about the Looney Tunes cartoons they watched while growing up. However, the fun does not have to stop when the movie ends. Parents can pick up Space Jam Legacy figures to keep the ball rolling so-to-speak both on the court and off.

Cats Vs Pickles™ Plushies
One of the most talked-about shows on YouTube also has a hit app on Google and is being heavily promoted in multiple countries across the globe. The hilarious "Cats Vs Pickles" adventures have memorized audiences everywhere while boasting well over 100 million views on social media! The premise? Pickles are loving and sweet characters that just want to be friends with the scared colorful cats that greatly fear them. Best of all, no scripts are necessary for these comical scenes to bring about serious laughter. All that is needed to keep the laughs coming are a few unsuspecting cats and a random pickle who pops up when least expected. Then, by purchasing the Cats Vs Pickles™ mini plushies, kids can keep the plush cats jumping for the ceiling or flying through the living room as the plucky pickles make their unannounced visits.

Squishville By Squishmallow Mini Plushies & Playsets
Another YouTube sensation, "Squishville" by Squishmallow is an animated series that launched over the spring and summer of 2021 and is making a big splash with younger ages. Each of the characters offers a positive and encouraging message to viewers, complete with impromptu tunes that put the messages to music. But, kids of all ages enjoy playing along with the squishiest crew in the toy industry when they are able to take home the ultra-soft Squishville by Squishmallow mini plushies and playsets that feel like the coziest material imaginable wrapped around a magically pliable filling. Plus, these character figures are perfect for fidgeting fingers or reducing anxiety.

Retailers can Find Them All at License 2 Play!
The above toys have been a smashing success over the summer in retail stores and show no signs of slowing down the pace anytime soon. Be sure your store inventory is fully stocked to keep up with the high demand by ordering them today on License 2 Play's safe and secure wholesaler website. Not registered with us yet? No problem. Our online registration is as easy as 1…2…3. Once approved, you can have a blast shopping for the latest trending toys, games, and novelty items that are creating a stir in the toy industry in one location. Now, that's the way wholesale buying should be.