Aug 20, 2019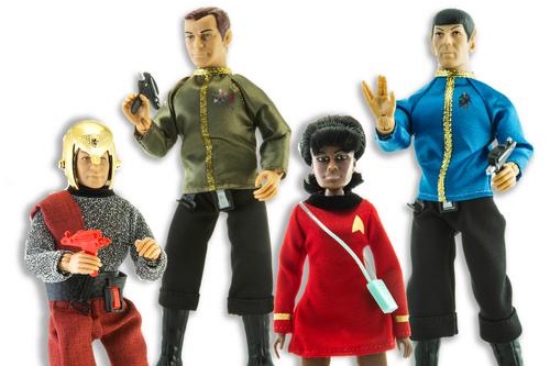 For nearly five decades, Mego creations have made it possible for fans to bring home action figurines of the movie and tv characters, musicians, comic heroes and villains, and other celebrities they love. These action figures spark creative play ideas by providing established well-known backstories kids can build on when they dream up their own daring adventures. Plus, there is a large variety of characters available for everyone to have a favorite. Read on to learn more about what makes these figurines continue to be so popular for multiple decades with both children and nostalgic adults alike!

How it All Began
Founded by D. David Abrams, Mego started offering affordable toys as early as 1954. However, people first took real notice of the company 17 years later in 1971 when D. David Abrams' son, Marty Abrams, graduated from business school and became the appointed president. Marty had the brilliant vision of acquiring the rights to produce and sell action figures that were made to resemble famous tv and movie characters in addition to other popular celebs.

D.C. Comics Paved the Way
An eight-inch G.I. Joe action figure called Action Jackson was first on the scene, followed by a variety of D.C. Comic characters. At that time, the D.C. collection was comprised of Superman, Batman, Batgirl, Robin, Aquaman, Tarzan, Spiderman, and Captain America. Mego's toys increased in popularity dramatically between 1971 and 1975. Many started calling Mego "The World's Greatest Action Figure Company" after patented plastic interchangeable parts were added to the eight-inch figurines where kids could mix-and-match outfits with heads from other characters.

A Packaging Legend
Interestingly enough, Mego was also making waves in the packaging industry as well by being the original company to use the classic cardboard backing with an easy-viewing plastic bubble to display their products for purchase known as a "Mego Bubble Card". They even thought to create a hole at the top for hanging the figurines on hooks in retail stores such as K-Mart.

The Collection
By 1977, over 30 superhero characters were being produced in the DC and Marvel collection, including Wonderwoman and the Hulk, along with a couple supervillains like Joker and Manta. Abrams also expanded his collections into all forms of notable characters. He bought the rights to create action figure replicas for movies like the "Wizard of Oz", "Frankenstein" and "Dracula". There were even Mego action figures for bands like Kiss or television shows like "Dukes of Hazard" and "Dallas".

A Marketing Genius
While the toys themselves were a huge hit for Hollywood fans, Abrams knew he needed to go big with his marketing budget to spread the word to retailers. He threw a gala to launch his "Wizard of Oz" line at the Toy Fair in New York City where he brought in the surviving cast members to mingle with the store owners and vendors. Imagine attending the trade show to find new toys for your shelves and seeing Tin Man walking towards you! Abrams understood how to get the crowd excited and talking about his products.

Inclusive Toy Line
A wonderful quality of many figurines produced by Mego is the wide variety of skin tones, hair shapes, and body types. This was unusual in the early-to-mid '70s. Abrams was known to ask the children in the stores what movies they liked and who their favorite characters were to get a feel for what replicas should be produced. Many say that was his secret for gauging the toy market so well.

The One that Got Away
Yes, Marty Abrams had a gift for knowing just which characters would be the hottest selling trends of the year. That said, no one can accurately predict the market 100% of the time. Unfortunately, Abrams passed on the opportunity to buy the rights to the Star Wars figurines, which was the leading reason for filing bankruptcy.

Still Available for Purchase
Thanks to a combination of the Internet, star-struck serious collectors, nostalgic parents, and Abrams' own unyielding savvy business efforts to reclaim the Mego name, retailers can now purchase Wholesale Mego Toys at License 2 Play. There are more current replica lines, like the Impractical Jokers, being produced as well as many of the classics.

It is easy to see why Mego toys have had real staying power on the market for both vintage collectors and young children alike. Thanks to Marty Abrams' willingness to take big risks on the entertainment trends, Mego has secured a place in the hearts of many for shaping imaginative play for people of all shapes, sizes, and ethnicities. It is safe to say the Mego name continues to be synonymous with affordable toys that build our creativity bring daring adventures to life.