Oct 01, 2019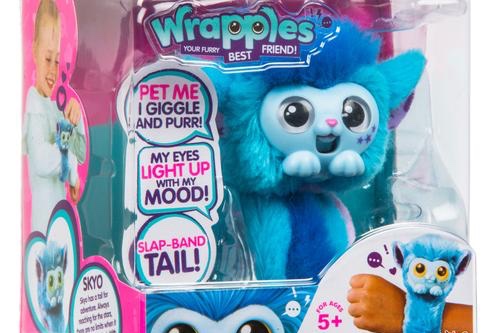 Many toys offer life-like interactive features designed to grab the attention of shoppers and sprinkle an extra layer of imaginative fun during playtime. These babydolls, pets, and accessories rev up the charm wherever they go. Make sure to stock your shelves and play zones with these animated toys kids will want to bring home!

BiGiggles
The ultimate sounding board, BiGiggles repeat back whatever you say to them! They laugh when you tickle their bellies and make silly sounds that make kids laugh along with them. To add another layer of surprising fun, change the pitch to low or high. This toy could be used for funny twist on grapevine party games or the BiGiggles could help children learn by playing back what they read aloud. Best of all, children can keep their hands free while carrying these talkative friends on their shoulders using their included magnetic base.

Cry Babies
Baby doll fans will go crazy for this sweet baby doll that cries real tears! Simply fill up the dispenser with water and remove the included pacifier to watch in amazement as tears actually fall. To cheer her up, it's easy! All she wants is for a loving friend to replace the pacifier or rock her to sleep. Cry Babies offer fabulous training for siblings with babies in the home or realistic playtime for children who just love babies!

Fur Babies World
Sometimes children have trouble sleeping. Fur Babies World offers a soft and cuddly solution with this collection of mystical creatures with colorful flowing fur who protect the Dream Tree that scatters sparkling dream dust collected from the golden flower crown in their world. Children may like the idea of having an interactive toy to protect them, but other animated toys may not be soft enough to not wake them. Additionally, some animation can be too loud for quiet peaceful slumber. Fur Babies wiggle their eyes and ears only, which means they do not produce too much movement and sound that prevents a good night's rest making them the perfect nighttime companion.

Little Live Pets
They beg, fetch, record children's secrets, and try to fly! Little Live Pets is a varied selection of interactive toys that play with their owners just like real pets. Dogs will beg and fetch while the songbirds record and keep secrets, along with over 30 real bird noises. For more fantasy play, baby dragons can be purchased that growl, hop around, and flap their wings in an attempt to fly! Moreover, Little Live Pets encourage social skill development by giving children something exciting to share with their friends. Leave a songbird in a hanging cage or let the dogs and dragons roam in a designated play space to see the glimmer of joy in children's eyes and hear squeals of laughter.

Wrapples
Wrapples help parents say goodbye to the issue of leaving toys behind when running errands or taking trips! These interactive furry pets double as fun jewelry as they wrap around children's arms for a gentle hug. Much like the above toys, Wappables also seem to come alive with over 50 sounds and reactions. These little cuties even sign together and talk to each other. Plus, their eyes light up to match their mood! For a creative yet simple way to showcase these amazing accessory friends, try placing a few different colored Wrapples on a small jewelry tree display on the checkout counter or an endcap to demonstrate their ability to hang from the branches by their wrapping tails. Let shoppers tickle them for giggles or pet them to make them purr. Once children spot these accessory friends, it may be hard to keep them in stock. So, be sure to order enough to replenish your display!

Whether role-playing with a crying baby or chasing after a new puppy or baby dragon, these animated toys take imagination to the next level using real-life sounds and reactions! If you want to create shopping excitement for your customers, it is hard to go wrong with any of these toys. Place them around the store to enjoy your shoppers' reactions as the toys surprise your guests with sounds and movements. You can even use fun props to create a non-spooky Halloween exhibit for little ones. After seeing what they can do, it may be hard for you to keep these lively characters stocked on the shelves!