Jan 22, 2018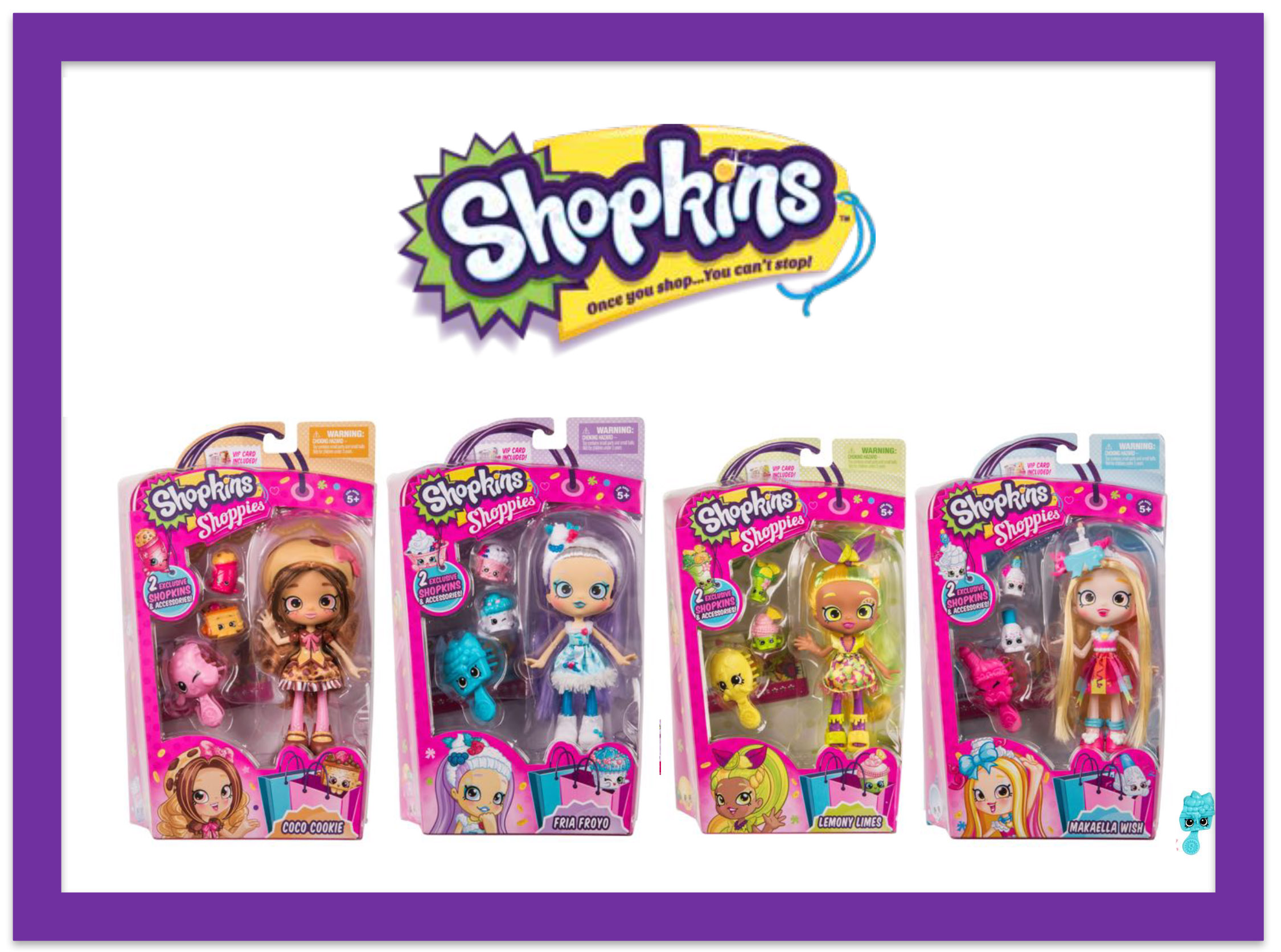 The Shopkins have had an amazing run. This year 2018 welcomes their 9th series of unique, adorable toys. Series 9 has a whole new set of characters, called the Wild Style Shoppets. At License 2 Play, we have a great selection of wholesale Shopkins ready to ship. Here is what you should know about these popular toys.
Series 9 Is Wild
This series has Wild Style Shoppies. These Shopkins are still cute food-themed characters that are fun to play with, but they are also animalistic. For example, you'll find Rainbow Kate, who is dressed in all the colors of the rainbow but also has bunny ears. She even comes with a little purse that looks like a mix between a cloud and a rainbow. Then there is Pirouetta, who is dressed entirely in pink. She also wears a crown along with cat ears and a cattail. Here favorite hobby is dancing.
Each of these cute Shopkin characters belongs to a tribe. Pirouetta belongs to the Glitzi Dancers Tribe, and Rainbow Kate is part of the Rainbow Dreamers Tribe. There are a total of 11 new tribes to collect from.
This Shopkin series also includes Shoppets, which are smaller than the Shoppies, but they come with their own little Shopkin characters. The Shoppets also belong to a tribe. For example, you'll find cute characters like Kissy Boo, who resembles a tiny kitty. She's part of the Glamor Gems Tribe. Pupkin Cake is a puppy who belongs to the Color Change Cuties Tribe. Both characters include adorable outfits and details, and each come with their very own Shopkin.
It Includes Limited Editions
As usual, the Shopkins creators Moose Toys have included a limited edition. In this series, it's the Shimmery Unicorn Tribe that is elusive and difficult to find. This series of Shopkins includes the largest number of limited editions in history. The rarest of them all is the Cupcake Queen.
There's Something for Everyone
Every Shopkins Series includes a wide variety of toys in every category. Of course, there are traditional bakery items, which include Mischievous Muffin and Bread Head for this series. There are fruits and vegetables, like Sour Lime and Buncho Grapes. Shopkins even has a tech category. Series 9 is the first time when the tech category items aren't limited additions. So your Shoppies can have their own MP Whee Player and a Metal Console. Other categories include sweet treats, home wares, health and beauty, and garden. There are also party foods and even a sports category, which includes Blaine Basketball and Fiona Football.
Petkins Are Back
Petkins were a big hit in Season 4, and there were also quite a few of them in Season 5. However, there weren't any new Petkins in the last three seasons. Petkins are tiny grocery items crossed with pets and are the Shopkins' best friends. Series 9 finally introduces a new selection of Petkins, such as the Beep Alarm Clock and Tilly Teacup.
The Theme Packs
Shopkins wouldn't be complete without their theme packs. Season 9 includes new adorable themed stands for Shopkins to play in. You'll find the Hoppy Juice melon cart that is driven by Melonie Hops. This adorable bunny loves watermelons and can't get enough of them. If you prefer sweets, then the Sweet Donut Swing is for you. This includes a Shopkin named Duncan and a tiny Shopkin that resembles a donut. The donut swing itself looks delicious but is also the perfect size for your Shopkin to play on.
The Playsets
Shopkins wouldn't be complete if they didn't come with playsets, too. At License 2 Play, we carry the Kitty Dance School, which is perfect for PIrouetta. Shopkins, Shoppies, and Shoppets can have fun with this playset, because it includes something for every size. It even has the barre to practice your poses and posture.
With the reappearance of Petkins, this series also includes the Kennel Cuties Beauty Parlo. Shopkins can take their Petkins or Shoppies and get all dolled up. Since the Shopkins themselves are wild, they will also enjoy getting their nails done and their hair beautified.
Get Ready for Your Customers with Wholesale Shopkins
Your customers will ask for the newest Shopkins, because kids just can't get enough of these adorable toys. Fortunately, they don't take up much space on your shelves, because they're so tiny. Don't underestimate them though, because they can generate a lot of sales. Altogether, Moose Toys reportedly has sold over 115 million of them, and there seems to be no end to their popularity.