Jan 02, 2018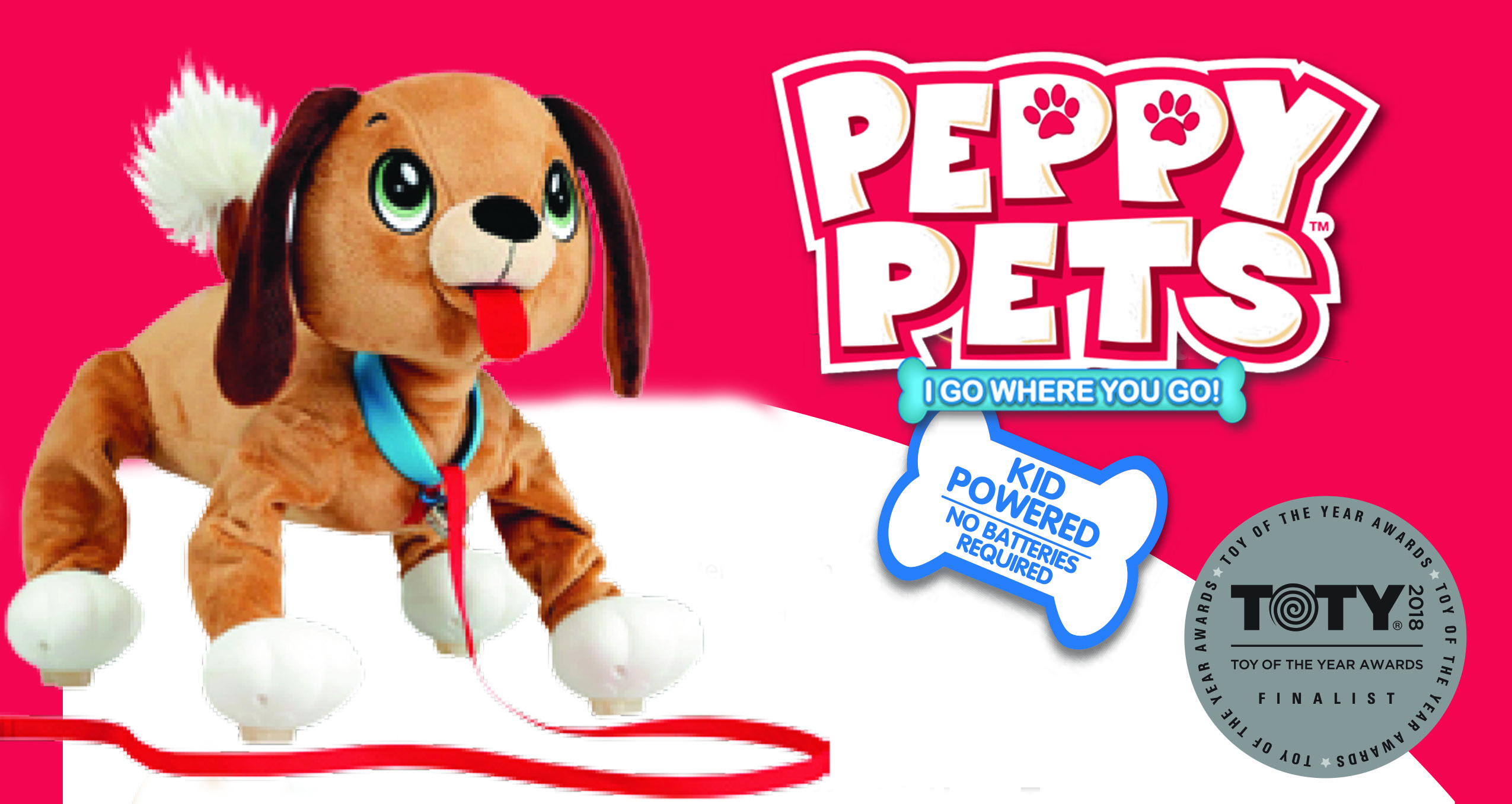 If there is one type of toy that has been popular with kids and will continue to remain so, it's the plush toy or stuffed animal. These kinds of toys even appeal to adults, which is why they come in all sizes. The only problem with plush toy is that they're usually only good for cuddling. That's not the case anymore: Meet the Peppy Pets.
What Are Peppy Pets?
Peppy Pets are adorable stuffed animals that are great for cuddling, too. So far, there are two different types of puppies, a unicorn, and a dinosaur. All of them have adorable white paws, a collar, and a leash. The collar even has a bell. But there's something special about these pets. Unlike other stuffed animals, they don't really have to get dragged around. Instead, they will spring into action when you pull on the leash.
Action Is Encouraged
These Peppy Pets love to get taken for a walk. They interact with the child, and walk or run with them, just like a real pet would. And when the child is ready to sit down, their pet is happy to take a rest beside them. Nobody can resist these adorable animals. It's the perfect present for a child who has been wishing for their very own pet, but is too young to take care of a real one.
Introducing the Peppy Pets
The Peppy Pets include a beautiful, purple unicorn. It has a silver horn and a pink mane and tail. Its big eyes are begging you to take it for a walk, but it also likes to rest and cuddle up with you when it's done playing. The unicorn also has a purple collar and a pink leash, which makes it easy to take it for a run.
The dinosaur has a beautiful green color, which is what makes it so adorable. It even has a few tufts of green hair on his head. The green dinosaur also has white feet with the springs underneath that make it hop along with you when you take it for a walk. Its blue collar includes a bell that rings cheerily. The red leash provides a great contrast to the green color of the dinosaur.
The most popular of the Peppy Pets is the mutt. This adorable puppy is a light brown color with dark brown ears and a fluffy tail. Its tongue is sticking out to show that it's excited to play with you. It also has a blue collar and a red leash, so you can take it for a walk. There is another puppy in the collection now, which is an adorable Dalmatian. Its white fur has several unique black spots. Its ears are also black and ready to listen to your commands. The big blue eyes complete the look.
Toy of the Year Award for Peppy Toys
The Peppy Pets were finalists in the plush animal category and received the Toy of the Year Award, or TOTY. This award is given to the best toys for the most recent holiday season. Toys are nominated from within the industry and selected by academia, media, and industry influencers. This award is considered the "Oscars" of the toy industry, and it's a real honor to be listed as one of the finalists here.
Out of more than 600 toys, only 5 are selected for each category. Plush toys are part of a new category that was only recently added to the Toy of the Year Awards. That makes it even more special for Peppy Pets to take the lead right away.
What Makes Peppy Pets So Special?
One of the best things about Peppy Pets is that they don't require batteries, even though they're an interactive toy. This allows for hours of imaginative play for kids without having to be recharged. The best part is that these toys are great for different types of play. Whether kids enjoy playing pet shop, vet, pet boarding, or other pet-related games, the Peppy Pets are ready to play along. They rest when you rest, but they leap into action when it's time to run around and have fun.
Reserve a Space for Peppy Pets
Stuffed animals always tug at the heartstrings of children and adults, because they're so adorable. Peppy Pets are unique, because they also allow for active play, which is a great selling point for the parents of your youngest customers. These pets can even help with building gross motor skills, which make them great toys for toddlers and preschoolers.