Oct 05, 2017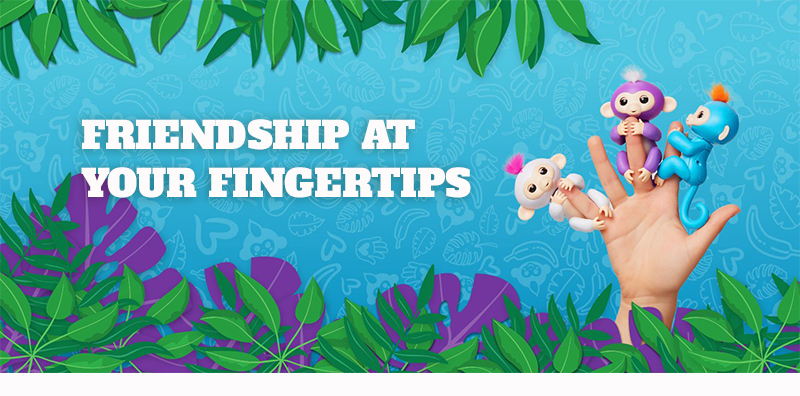 What's more adorable than a little monkey holding on to your finger? The manufacturer WowWee created colorful, interactive monkeys who love hanging on to your finger. They even know when they're being talked to. Fingerlings are going to be a big hit this holiday season, because they make the perfect Christmas presents for any child who's already wishing for a pet.
What Are Fingerlings Baby Monkeys?
Fingerlings are a high-tech robotic toy. These interactive pet monkeys curl around your finger and come to life when you touch them or talk to them. They even hang upside down. With over 40 sounds and animations, you never know how they'll react. They make different monkey sounds, their eyes can blink, and their heads can turn. Their hands can even hold on to your fingers as you swing them, pet them, or rock them to sleep.
Fingerlings Baby Monkeys come in different colors. At License 2 Play, we have Black Finn, White Sophie, Blue Boris, Purple Mia, Pink Bella, and Turquoise Zoe. Kids can pick their favorite monkey or collect them all and enjoy hours of fun. These toys do require batteries, but they are included.
Who Are They For?
These adorable critters are only 5.5" tall and are designed to be fun for children ages 5 and up. These monkeys are inspired by the rare finger monkey species that's being protected by WildAid. The toy version allows kids to learn about these monkeys and have their very own finger pet to play with. It's hard not to fall in love with these adorable critters, and kids in the U.K. and in Canada are already going crazy over them.
Every Child Wants a Pet
These monkeys are going to be a big hit this holiday season, because who doesn't want their very own pet to spoil? The great thing about Fingerlings is that they don't require the prolonged expensive care that you can expect with a real puppy or a kitten. But kids will still feel like they have a real friend, because these pet monkeys are decidedly animated and fun to be with.
These Monkeys Foster Creativity and Caring
Caring for pets improves character development in young children. Even caring for toys like these little pet monkeys will encourage young children to be caring and nurturing. They'll also get creative with the games they can play with these little monkeys. Kids may even decide to build a bed for their little pet. These monkeys are also great to play with when friends come over, and kids can take turns taking care of the pet.
The great thing about playing with these little monkeys is that kids can do everything without their parents. They can name their new friend, and they get to decide when it's time to play, eat, sleep, or wake up. Some kids may even want to teach their little monkey tricks. You'll be hearing lots of laughter for sure, because these monkeys make adorable noises.
How to Sell Fingerlings to Your Customers
Animals are hard to resist, especially when they're as cute and lifelike as these ones. Whether you place these Fingerling monkeys with other toys designed for this age range, within an animal-themed section, or near the checkout in your store, kids are bound to pick them up and examine them.
To encourage exploration, you could allow your customers to have access to one of these toys. Once they have played with these monkeys, they're not going to want to go home without one. Even parents and educators will fall in love with these adorable toys.
Why You Should Stock Fingerlings
Fingerlings are predicted to be the hottest gifts of the season. Parents are going to be driving all over town looking for places that sell these little monkeys, because their kids just have to have them. Even if Fingerlings turn out not to be the hottest toy of the season, you know they're going to sell. What's not to love about them? They're animated, they're small, and they're cute.
It's best to stock up before the holiday season when parents are panicking to gather the Christmas presents. Fingerling monkeys are even small enough to make great presents for Christmas stockings. You can order an assortment Fingerling monkeys from License 2 Play, which are ready to ship to your store in December, just in time for eager Christmas shoppers.