May 05, 2017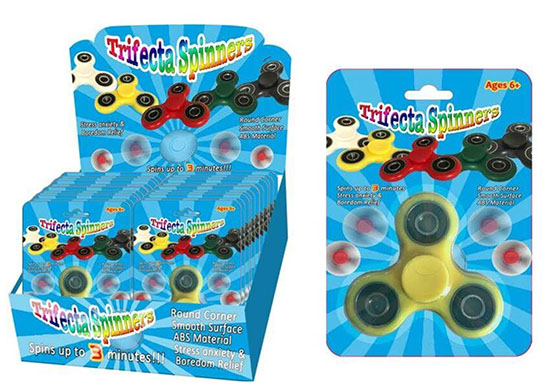 Sometimes you just need to do something with your hands, and that's where fidget toys come in to play. Originally created for kids with autism and ADHD, these mesmerizing spinners are the perfect distraction in a stressful situation. The toys use a simple concept to calm children who have a hard time sitting still; you simply spin the circles to keep the momentum of the toy going. Watching the circles spin while trying to discover new ways to use the spinner keeps kids and adults engaged. It's even been said that fidget spinners may even improve concentration in the classroom, especially when it comes to special needs kids in school environments.
Spinners aren't limited to kids with autism. The addictive, handheld toys have become tools for reducing stress, too. Similar to the idea of a stress ball, having something to do with your hands can provide a repetitive distraction that can soothe nerves and calm anxiety. Inexpensive, portable, and appropriate for all ages, fidget spinners are one of our top selling toys, and it's easy to see why.
Offered by Galaxy Distributors, spinners come in different colors and types that kids love, including shiny metallic designs and glow in the dark spinners. Available in cases of 24, these trendy toys have really taken off, so it's easy to see why they are in demand right now. Since everyone can play with spinners, the demographic is endless, and there's no age limit on the calming effects of a fidget spinner, whether you're trying to limit an autistic child's stimming behavior, or attempting to wind down after a stressful business meeting.
The simplicity of spinners is what makes them so endearing, and so economical. In a world where we are constantly barraged with tech devices, such as smartphones, tablets, smartwatches, and complex toys, it's refreshing to see such a low-tech option when it comes to playtime. It's also helpful for special needs kids to have a toy that they can share with their friends; everyone is entranced with the spinning wheels of these anti-fidget favorites.
For kids with sensory issues, toys like the spinner are a must for self-soothing, and can even calm kids without special needs, allowing them to focus more clearly on tasks when they are engaged in a physical activity. And since the device requires constant physical contact to work, it keeps kids from focusing on negative feelings or emotions, reducing anxiety.
Also called 'trifecta' spinners because they have three bearings, these sensational spinners have increased in popularity once everyone discovered the simple yet soothing sensation of spinning. Perfect for people trying to quit smoking or biting their nails, these spinners are great to have on hand for panic attacks, nervousness, and even for honing concentration and focus. Can't stay awake during work or school? Spin to stay alert! There are so many ways to use these tiny toys, making them one of the most versatile products of 2017.
Spinners make great party favors, souvenirs, giveaways for clients or customers, or handouts to kids at school. License 2 Play is a wholesale fidget distributor, so check out our selection of spectacular spinners and spin your worries away!