Dec 12, 2019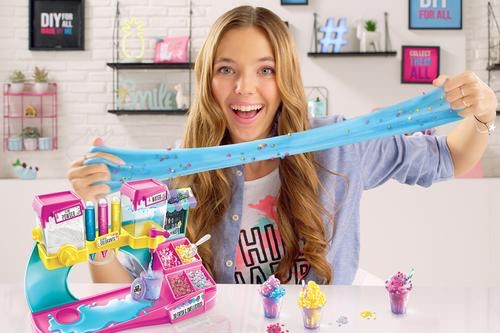 Retailers, we have the wholesale toys that will ramp up your customers' imagination! With these shape-changing products, there is no end to the fun. Read on to learn more about toys that will offer your shoppers a whole new world of exploration and introduce really cool science concepts.

Beados
A big hit with young crafters ages 4 and up, the Beados collection allows children the opportunity to turn individual beads into adorable animals, sweet treats, gardens, and more. This playset comes with everything your customers need to build, play with, and store their own bead creations, including a design tray, mini water sprayer, storage tray, design stand, and 500 beads! Offer a Beados clinic to customers, and see how transformation play can turn the ordinary into extraordinary.

Slime'licious
If your shoppers like the goopy side of science and are into aromatherapy, then our Slime'licious is perfect for them! Unlike traditional slime, this one smells like delicious foods and drinks. Customers can even come up with their own scented slime recipes. Imagine popcorn, grape, bubble gum, strawberry milk with cereal, or chocolate-smelling slime! Playtime has never smelled this tasty! Individual slime shakers come with a food-themed mini shaker, a scented slime powder pack, and decorations. Need longer-lasting fun? No problem. Consumers can make up to 16 mini scented slimes with our Slime'licious Factory!

So Slime
Kids who love the idea of slime yet want more color and excitement will absolutely love our So Slime line of products! Choose from our glow in the dark, shimmery slime, or color-changing slime. That's right, we said "color-changing"! Each comes with a shaker, slime powder, glitter, confetti, sticker sheet, and a surprise figurine. For more color choices, offer your customers our pack of 3 for multiple color creations or our Slime Factory that puts kids in charge of making the color blends they want with fun surprises inside.

Slime Bubbles
Do you wish slime could become something else? Wish granted! Your consumers can turn their stretchy slime into something bubbly and bouncy with Slime Bubbles. Available in three vibrant colors, kids simply blow through the special included straw to transform the gooey mess into a ball of fun! Attract more customers by hosting a Slime Bubble competition in your store to see who can blow the largest bubble. Watch out, though, because much like bubble gum, Slime Bubbles will eventually pop and players who cannot keep the bubble going will be eliminated! The prize could be a Slime Factory or Slime'licious Factory plus bragging rights and post-worthy memories.

World's Smallest Stretch Armstrong
Of course, the never-ending stretch of the World's Smallest Stretch Armstrong toy can bring the shape-pulling fun anywhere your customers go! Stretch Armstrong has been a popular toy since 1976. Both a stress-reliever and a curious science experiment, this guy's arms and legs can be pulled up to four times their regular size before returning to their original shape. As a bonus, this version of the Stretch Armstrong toy can fit in the palm of your hand, which makes him the ideal friend for family trips or running errands.

World's Smallest Silly Putty
Some shoppers may be looking for something that is not gooey or crafty to take with them on car trips yet has no specific shape to keep the creative juices flowing. For these kids, tweens, and teens, the World's Smallest Silly Putty is always a hit! Being a wonderful classic, this toy is one that parents will enjoy buying as it sparks memories of their own childhoods. Each pack comes with two colorful egg-shaped containers of putty. Try letting kids press the putty against a newspaper to generate more interest.

So Soap
One thing every kid needs is a bath from time-to-time. But, why should the shape-shifting play stop when its time to get clean? Young shoppers will giggle with delight when they learn they can make their own frosted cupcake soaps for bathtime with So Soap! Plus, the super cute toppers float in the water that keeps the pretend play stories alive, despite being in a tub.

In conclusion, the above toys are all designed to attract the attention of your more imaginative customers. These shape-changing toys will be especially popular with kids who have a passion for science! Talk to your teacher customers about hosting Beados and slime clinics or make these toys that are perfect for party favors and gifts stand out more by building a birthday party display. After all, these toys prove that learning about shape alterations can be fun!