Nov 28, 2021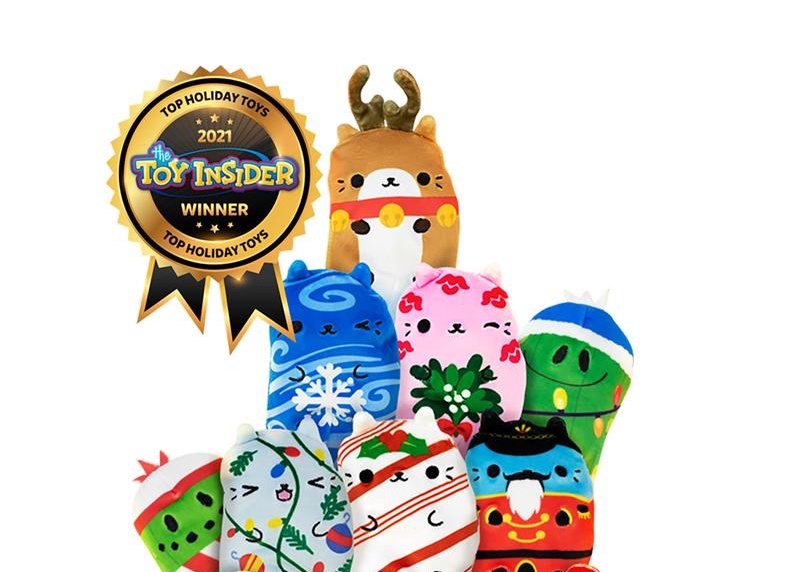 We dare you not to laugh after finding these in your stocking! Some of Santa's biggest hits over the holidays are toys and treats that were designed to bring out the giggles in us all. From beloved cartoon characters to creative candies, these hilarious 5 items make the perfect stocking stuffer for everyone on your shopping list.

1) Holiday Cats vs Pickles™
Nobody brings the laughter into homes quite like the hit animated series, Cats Vs Pickles™. The crazy antics of overly frightened cats mixed with friendly yet arguably slightly stalkerish at times pickles is a hilarious combination the whole family can enjoy. Now, fans can act out the comic scenes at home or on the go this holiday season with new cat and pickle plushies who are dressed to impress in their festive holiday attire. A "2021 Top Holiday Toys" winner from Toy Insider, the 4-inch holiday Cats vs Pickles plushies come in a 12-pack assortment that includes 12 different characters who are all dressed to bring a smile to Ebenezer Scrooge himself!

2) Bob Ross Toys, Games, & Candy
Bob Ross was a beloved art instructor on television with an iconic fluffy rounded hairstyle that never changed. He showed the world how to paint "happy little clouds" as well as give depth and dimension to trees and landscapes with ease. Instead of becoming frustrated with mistakes, Bob demonstrated how to turn those errors into inspiring works you'll want to display in your home. Today, you can still prompt a reminiscent giggle to all who knew Bob's work by giving them a World's Coolest Bob Ross talking keychain, Art of Chill or Happy Little Accidents game, micro Bob Ross figurine, or a DIY gummy kit. For the holidays, we suggest the Bob Ross ugly Christmas sweater candy tin with green apple tree-shaped candies for the perfect stocking stuffer!

3) Lump O'Coal Bubblegum
If you know someone who is definitely on the "Naughty List" this holiday season, the Lump O'Coal bubblegum tin placed in their stocking is a great way to lighten the mood and start the day with laughter. Of course, sometimes being naughty has its rewards. Inside the tin, there are tiny black coal-shaped pieces of flavorful bubblegum because even Santa's naughty kiddos deserve a tasty treat over the holidays.

4) "The Office" Candy & More
We all laughed out loud when random office supplies like Jim's stapler would end up in the middle of a Jello mold on the popular sitcom, "The Office". With the strawberry-flavored Office Gummy Stapler, everyone will be able to relive the funny pranks and resulting expressions all over again. Other seriously comical stocking stuffer ideas for Office fans include a World's Coolest talking Office keychain, Schrute Farms Bed & Breakfast candy tin, Santa Mike and elf Dwight holiday candy ornaments, and, naturally, the coveted Dundie Award filled with logo-shaped cherry sour candy.

5) Holiday Candy Tins Based on "Elf" the Movie
Will Ferrell offered moviegoers across the globe comical insight into the life of a fully-grown clumsy man who was raised as an elf in Santa's workshop in the 2003 movie, "Elf". Since its release, "Elf" has become one of the most-watched holiday movies for families every year. Just imagine waking up to an image of an excited Will Ferrell dressed in an elf costume on the cover of a candy tin with his famous phrases like "Santa's coming! I know him! I know him!" posted next to his picture. We dare you not to crack a smile!
Where to Buy Wholesale Holiday Stocking Stuffers Everyone will Love!
Looking for the stocking stuffers your customers are searching for online and off? License 2 Play has the top trending toys, games, candies, and novelties. Simply register your business with us online and enjoy shopping for this year's favorite gifts and treats using our intuitive navigation on our secure website. From our TOTY finalists to toys based on the most popular animated series or video games, we have the hottest-selling products you need to attract attention and build customer loyalty for ongoing repeat purchases.