Sep 01, 2021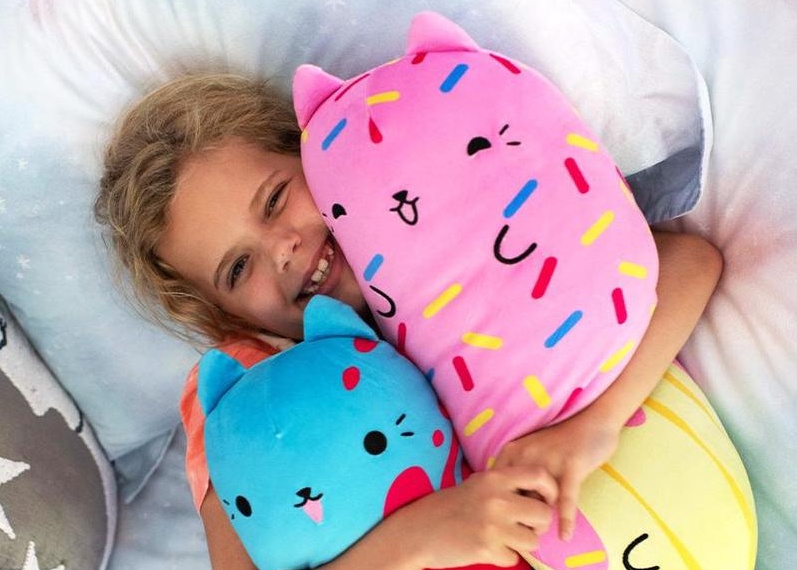 Are you curious to know why Cats Vs Pickles plushies are some of the best selling toys in retail stores everywhere? What makes them so popular and why can't store owners and managers keep them in stock? Let's delve into the world of these skittish cats and lovable pickles to discover what makes them continue to top the charts in toy sales with no signs of slowing down anytime soon!

What is the "Cats Vs Pickles" animated series?
Creative stories about scaredy cats and the overly zealous pickles who want to hug them are entertaining young audiences around the globe. No words are needed for this YouTube sensation to bring out the belly laughs. All it takes is a cat minding its own business and a surprise guest appearance of the pickle who comes out of nowhere and tries to be friends. As one may imagine, this relationship does not work in the pickle's favor and the cat often has to be peeled off the ceiling or be coaxed out of hiding after a pickle encounter. Between the comical cats and the sweet but misguided pickles, the "Cats Vs Pickles" animated series boasts over 1.7 million views and is a smashing success with children and families alike!

Why are these toys selling so fast?
With more than 1,500 units sold in just 100 days, the Cats Vs Pickles toys are some of the most sought-after items in the industry. Why the fascination with these characters? Kids may initially be attracted to the bright colors of the cats, the irresistibly soft poly-fiber material, or the slap-stick humor of the YouTube show. Parents might appreciate supporting the social lesson in the cartoon series that teaches us to look beyond appearances and first impressions to see that friendships with seemingly incompatible individuals can be possible. Well, that and, let's face it, the lesson that popping up out of nowhere is not likely to be the best strategy for making friends is a good one to learn as well. ??Plus, these toys are unlike anything available on the market, kids can use them to act out scenes from the videos, and influencers like TikTok's WeWearCute, YouTuber Jazzy Skye, YouTuber Madison and Beyond, and YouTuber Kin Tin have all featured these wildly popular toys in their videos. Then again, it could be these toys make the perfect companions to watch kids beat new levels on the 5-star rated "Cats Vs Pickles" app!

Which toys are available?
We have exciting news for retailers looking to stock up on these top-selling beloved toys! There are a total of 44 characters for the 3-inch figurine collectibles, which means multiple purchases are to be expected. Also, the plushies come in three sizes for a larger variety of playtime and nighttime friends. Sizes include a 4-inch travel plush, an 8.6-inch jumbo plush with a weighted bottom that is ideal for acting out hilarious scenes at home, and a 20-inch cuddly hugger that is always ready for a squishy bedtime cuddle. With so many choices, how can anyone choose just one?

What is the target audience for these toys?
Although the whole family is sure to enjoy the "Cats Vs Pickles" YouTube videos, the plushies and figurines are likely to be most requested by boys and girls between the ages of 4 and 7. They are also likely to be a hit as party favors and the hugging plushies make a fun luxuriously soft gift for children of all ages.

Where can Cats vs Pickles toys be found?
With so much Cats Vs Pickles mania, there is just one problem. Plushies and figurines can be hard to keep in stock! But, don't worry. License 2 Play has you covered with figurines, blind bag 4-inch plush dolls, and a wide selection of assorted plushies of all three sizes. Simply complete our online registration form and, once approved, you can begin placing your order for these highly promoted toys. Why wonder what the kids want to buy year-to-year? We've done the research for you so that all you have to do is have a blast selecting the toys, games, and novelties you want for your store starting today!