Jun 15, 2019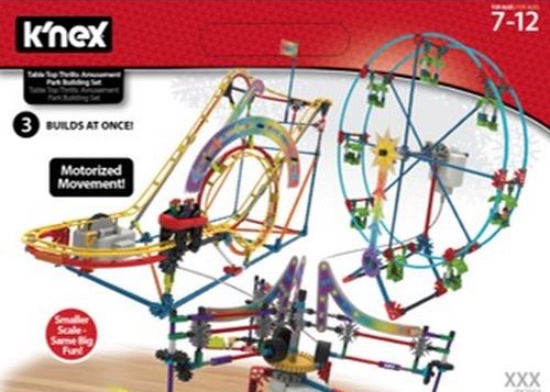 Whether your customers have a future engineer at home or are looking for ways to encourage creative play for the many associated cognitive and social benefits, these toys will bring out the wow factor as young minds explore limitless building options. With so much of children's playtime being consumed by video games, social media platforms, television, and movies, it is no wonder parents search for toys that allow children a chance to construct a scene that brings their own stories to life in the way they imagined. Parents and older children can even take the designs further when incorporating electronics with the playtime fun to produce homemade movies or illustrate how the building structure would look if it had walls and a roof. Check out some of these designer toy sets that go beyond basic blocks to offer added ingenuity.

Power Dough
When you were little, did you wish your playdough creatures had accessories to give them varied personalities and could come "alive" with the aid of some battery-powered components? We at License 2 Play, Inc. heard and granted those wishes. Power Dough is simple to craft into animal or vehicle shapes with silly accessories included, and playtime results in lots of post-worthy giggles when the added powered part is switched on bringing the creation to life. This makes an excellent gift at birthday parties. Plus, with four different sets to select from, your customers will be able to return to the store for more!

K'nex Building Sets
Remember the days of Tinker Toys and Lincoln Logs? Of course you do because everyone still loves those sets to this day. Building a house is so much fun with Lincoln Logs for younger children who enjoy discovering how the logs best fit together to go higher or wider. Slightly older children then begin to explore more possibilities of things they can create from windmills to animals or cars using Tinker Toys.

Now, children of all ages can learn more than ever before about structural engineering and design from K'nex building sets where the older version of Tinker Toys gets an upgrade to unlock more imaginative play potential with the K'nex Budding Builders Tub for little ones and K'nex Imagine Creation Zone set for older children. Leave it to K'nex to take construction concepts to new heights. Even those willing to attempt to build the awkward and impractical should find just the right shapes to complete their masterpieces. For those desiring a set of pieces intended for more specific building purposes, stock up on sets like the K'nex Amusement Park or the K'nex Wings and Wheels.

Smarty Parts
Younger builders who would like to learn how adding springs, hinge pieces and magnets might change their creations would adore the Smarty Parts building sets! There is an architect, engineer, and builder set, so the learning does not have to stop with cars and houses. Using the pieces from each set, who knows where the inspiration will lead?

Flexo
Wait! Don't throw away your brick sets yet! Flexo breaks building barriers by being the world's only flexible brick system. It is compatible with all major brick brands, though it improves the once rigid structures by enabling them to open and close, flip, or expand and contract. Set this flexible brick system in a play area with some examples already pieced together to see children's amazement at what they can do.

Beados
Have you had a moment when you wished you could keep your best designs intact without taking up a lot of room to store them? Seriously, the things kids can make are incredible, and they would be ideal toys for interactive playtime after they are built. But, who has the room to store all of their children's amazing creations? This is where Beados takes the lead. Using only beads, children can design anything, spray it with the included sprayer, and, once it is dry, use the design in their continued imaginative playtime. With such tiny and thin creations, it is easy to store whatever the children can craft in the included storage container.

As you can tell, building sets no longer have to be rigid, limited and come with a set of instructions. While instructions can be helpful to get started, the above builder systems can allow imaginations to take flight and surpass what was thought to be not possible. Power Dough animals can move, K'nex sets come with innovative pieces like bent tracks to make roller coasters, Smarty Parts introduces magnets and springs, Flexo turns bricks into moveable components, and Beados packs up children's designs for on-the-go travel or storing for later. Parents will have a tough time deciding between these unique building sets for their children's creative play at home, though we can't really blame them because we like them all too. Which one is your favorite?